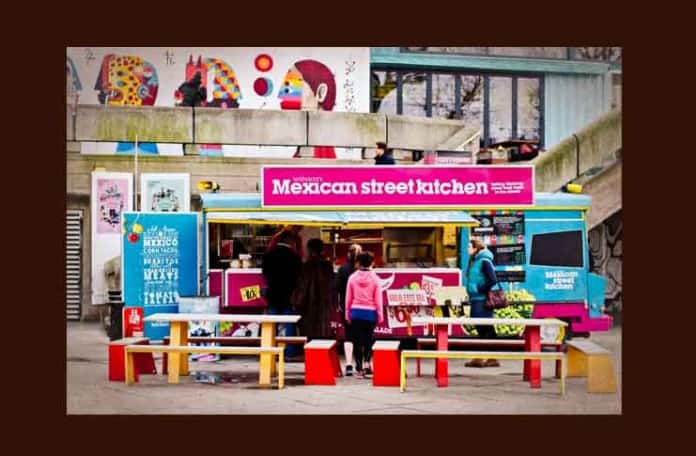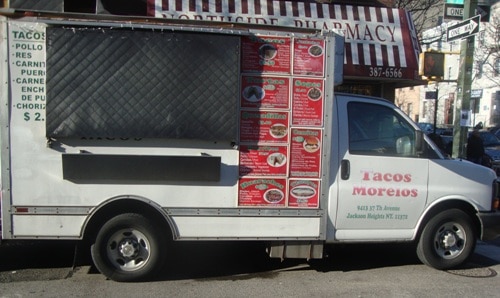 If you've ever taken the L train to the Bedford Ave stop in Williamsburg, chances are you've seen the Tacos Morelos truck, which usually parks by 7th St.  I believe they have been around for a while, but this was our first time trying their food.
Morelos is one of the states in Mexico, and this appeared to be a pretty traditional Mexican food truck. One of our standard rules is to order any dish included in the name of a place, so for our First Look, we tried two tacos – one chorizo and one chicken ($2.50 each).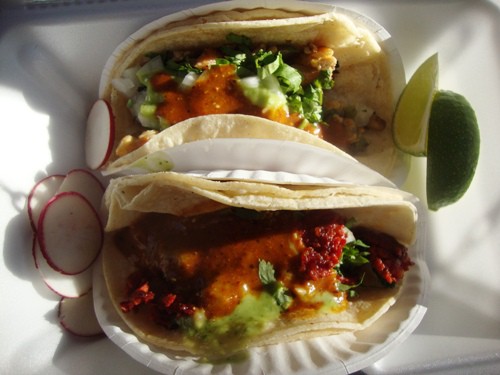 I've been to Mexico City, and these tacos reminded me of the ones I had when I was taken to a neighborhood restaurant by local people I knew there.
First of all, they used two tortillas, which we think should be required by law.  Single tortilla tacos break apart way too often.
The second rule is simplicity.  Meat, onions, cilantro, salsa verde and salsa picante.  The traditional Mexican way is to add sliced radishes and squeeze on fresh lime juice, which we did too.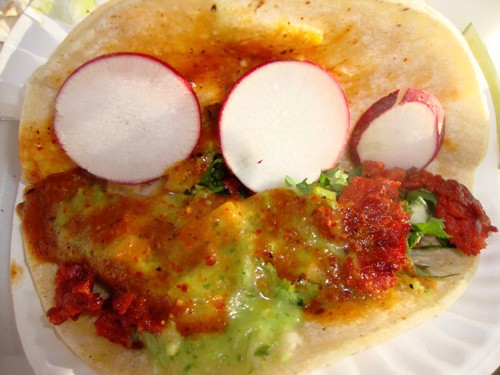 I tried the chorizo taco first, and it was very tasty.  There were lots of herbs and spices in the salsas, and it was pretty spicy too.  Both the chorizo and salsa picante were spicy.
The chorizo was meaty, but without that crappy filler you sometimes get in sausages.  Nice job.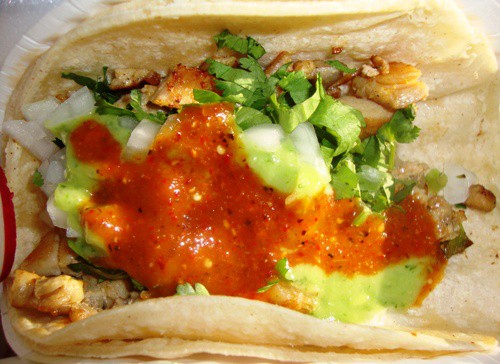 The chicken taco was good too, but not quite as interesting as the chorizo.  The chicken was grilled white meat, and the fillings were the same as the other taco, but it didn't "pop" like the chorizo taco did.
If you're in Williamsburg and looking for a simple, fresh tasty meal or snack, Tacos Morelos should fit the bill.  These tacos really did remind me of the ones I had at a local restaurant in Mexico City – which is a pretty high compliment.