Looking for a new Food Truck Plaza? Well, when the Barclays Center was built, it was expected to be an anchor for the area. Now some of those ideas are coming to fruition – like the creation of a food truck plaza in the Daily News Plaza of Barclays Center. (Is that enough corporate branding for ya'?)
For now, there will be 3 Saturdays where a number of Brooklyn-based food trucks will be at the Daily News Plaza at Barclays Center. The 1st one is this Saturday (6/1).
Dispatch NYC is responsible for setting up this deal. There will also be tables and chairs in the plaza so you can rest your weary bones, and not get kimchi pork on your shirt.
Click through for all the details, including the 3 dates, and which of your favorite food trucks will be there this Saturday.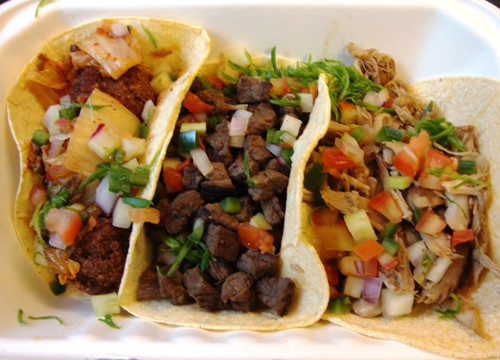 In addition to June 1st, food trucks will be at the Daily News Food Truck Plaza of the Barclays Center on July 6th and September 7th.
The hours will be 11am – 5pm, and you can follow the action online at #BrooklynTrucks
Participating food trucks for June 1st include:
•  Coolhaus Ice Cream Sandwiches
We're not sure these food trucks are all Brooklyn-based, but they are all excellent, which is what really matters.