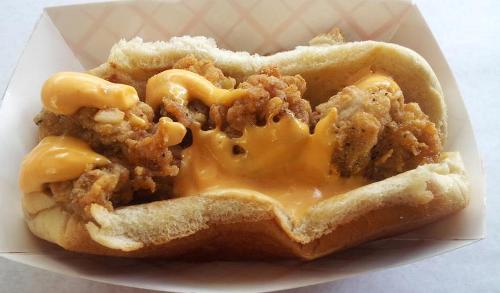 We've always been big seafood lovers, so when the Fishing Shrimp truck came out, we were ecstatic. There's nothing we love more than fried seafood (except maybe ice cream).
After enjoying most of the items on the menu, Fishing Shrimp has recently unveiled a couple of new dishes to keep us coming back for more.
A few weeks ago, they mentioned a new cod fish and chips meal (photo below) that we have to try. Fish & chips is always on the agenda when we go to London for business. It's truly one of our favorite dishes.
Just last night, they unveiled a fried oyster roll (top photo) that looked really good too. We're not huge oyster fans, but doesn't the top photo look delicious?
Guess we'll be looking up the Fishing Shrimp truck real soon on twitter here or on our Mobile Munchies twitter feed.