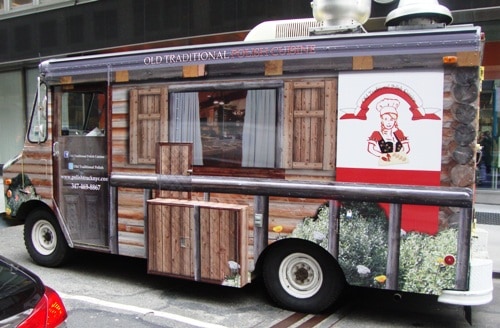 Ever had Old Traditional Polish Cuisine? Late last week we went to Uncle Gussy's for lunch (review still to come). After leaving the truck with lunch in hand, we saw a new food truck across Park Ave on 51st St that we hadn't seen before. It was designed to looked like a cabin in the woods.
Upon closer inspection, the name of the truck is Old Traditional Polish Cuisine (OTPC), and they have pierogies and kielbasa. Be still my heart!
To paraphrase Anthony Bourdain, "there's nothing better than meat in tube form". We couldn't agree more, from wurst at Hallo Berlin to kielbasa at Old Traditional Polish Cuisine, we love the stuff.
We expected the kilebasa to be right up our alley. The question in our mind was how good the pierogies would be. We have family in rural PA who make some kick-ass pierogies.
In order to sample things, we got a "Lite Combo" for $10, which was kielbasa and potato & cheese pierogies. You can see the full menu here.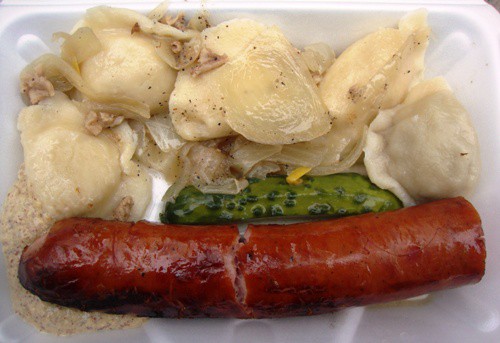 Lite Combo is either the misnomer of the decade or they're pulling our leg. There was nothing light about this lunch. Delicious, yes. Light…not so much.
The kielbasa comes with a pickle and "Grandma's bread". Looks like they learned something from Uncle Gussy's besides where to park.
The bread had nuts and grains in it, but it didn't come with any butter. We would have liked a small pat of butter to  put on the bread (because this lunch needed even more more cholesterol).
The pickle was a half-sour spear, which is our favorite type. Full sour pickles are too tart for us, and dill pickles are ok, but don't go with this type of food.
The kielbasa was big and thick, and was grilled nicely over flames. It wasn't overly garlicky or strong. In fact, it was a little on the mild side for kielbasa, but still tasty.
The kielbasa came with a grainy, strong mustard that went well with the it. The spicy mustard was good with the kielbasa.
We expected a smaller portion of sausage in the combo than if we got just kielbasa for lunch, but that didn't seem to be the case. It looks like they cut back on the pierogies in the combo plates, serving 4 instead of 7 (small) or 9 (large).
The pierogies came with grilled onions, and were really good. They were stuffed to the brim with a mixture of potato and cheese, and it had a slightly peppery taste.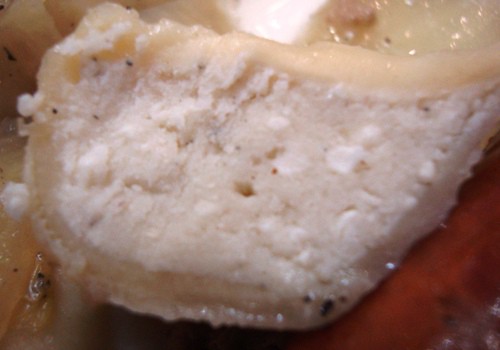 The dough on the pierogies was good too. It wasn't too thick or chewy, and taking bites of pierogies and onions, the pepper was even more apparent.
If you ask us, this was the perfect lunch for a cold winter day in NYC. Not sure how much business they will do in the middle of summer, but for this time of year, it was a very enjoyable lunch.
Too bad you will have to wait a couple of days to try them. Today's tweet said:
Hello everyone – unfortunately we will NOT be out for lunch today! Save your cravings for Wednesday!
Old Traditional Polish Cuisine is on twitter here and on our Mobile Munchies twitter feed with lots of other great street vendors. They don't have a website, but facebook is here.
Old Traditional Polish Cuisine doesn't have a large menu, but we still need to go back to try the meat pierogies. If you've tried them, let us know how they were.