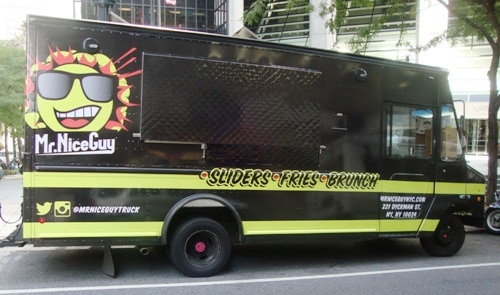 A tipster told us yesterday about a new food truck called Mr. Nice Guy. Thanks Tim.
We were able to get to the truck, which was parked on 40th St & Park Ave, by about 1:30. It was late, and there were a few people around the truck, but they still had everything on the menu.
Speaking of the menu, Mr. Nice Guy has 5 different types of sliders, two types of fries, and chicken wings, offered in various permutations.
We ordered the Slider Box, which includes 3 sliders and your choice of fries for $10.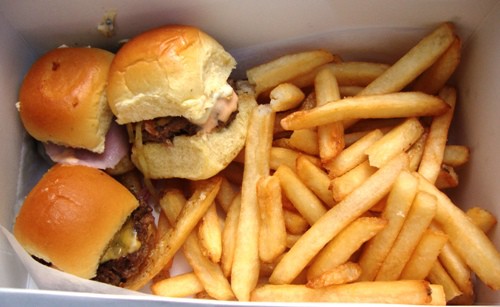 While waiting for lunch, we started a conversation with the guy in the truck. Mr. Nice Guy has been around for nearly 6 months, but they were in business mainly way uptown and in the Bronx. They only recently started coming into midtown.
Lots of food trucks serve sliders, which has become shorthand for any small sandwich on a roll. These were true sliders, in the White Castle-style meaning of the word. Luckily, the fillings were much better than White Castle's.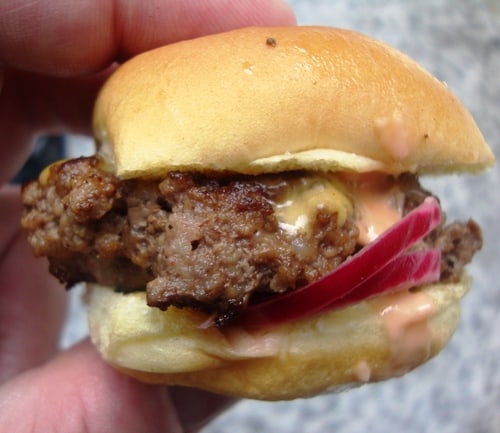 We started with the Classic Nice Guy, which had beef, American cheese, red onions and special sauce.
The patty was cooked to medium, with some crisp on the outside and pink in the middle. It was about 3 full bites, with a creamy ketchup/mayo-type sauce blending with the melted cheese. The onion added some bite, but this slider called out for a pickle. Where was the pickle?
It was in the Carne Cuban Slider!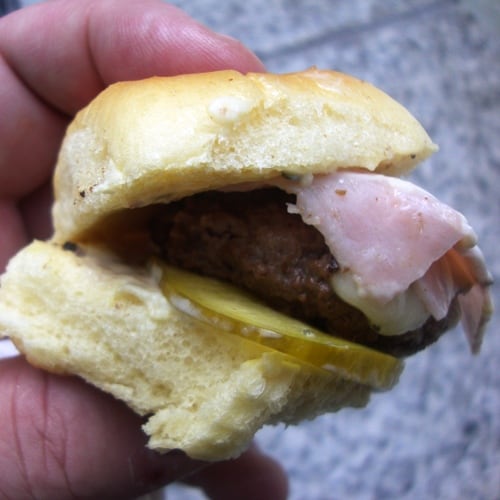 You can't call this a true Cuban, which is made with roast pork, but they acknowledge that by calling it a Carne Cuban Slider.
There was the aforementioned pickle, a slice of ham, Swiss cheese, and the beef patty. It was probably the least favorite of the three. Maybe mustard, like on a Cuban sandwich, would have helped. Instead there was mayo or whatever that white sauce was.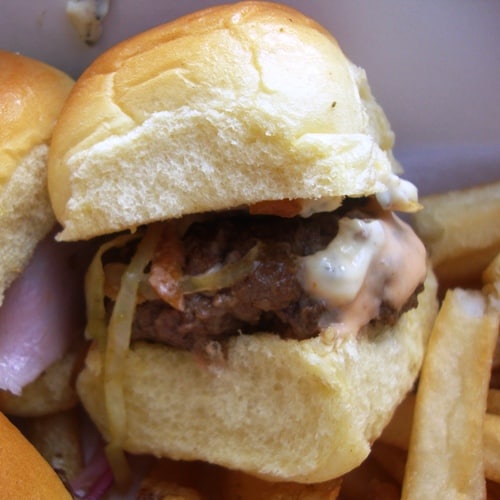 The last one up was the chimi slider. This was a small version of the chimichury, which we first had at the 2011 Vendy Awards, when Chimichury El Malecon was a Vendy Cup finalist.
This was a beef patty with chimi sauce (kind of like chipotle mayo, but not as spicy) and some chimi slaw. The chimi slider was the tastiest one, in our opinion, but the classic was a close second.
We would be remiss not to mention the fries. Not only was there a huge amount in the slider box, but they were very good.
The fries came out piping hot, and we enjoyed them very much.
You can find Mr. Nice Guy on twitter here, and their website is here.
We will definitely be going back to try some of the other menu items, but hopefully they will add a few more dishes to keep us coming back even more.