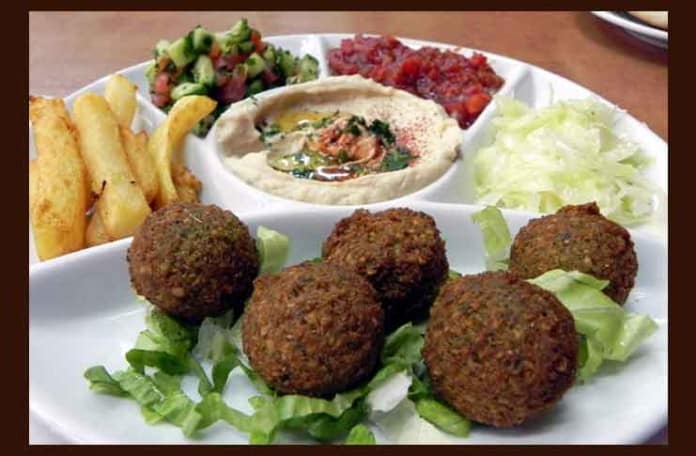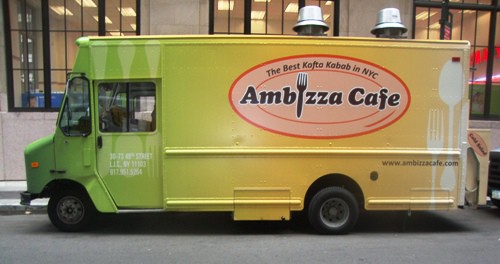 UPDATE – The Ambizza Cafe truck now park in the Financial District every day at Old Slip and Water Street. It does not park in midtown anymore.
I was near Grand Central for lunch and stopped at the Ambizza Cafe truck that was parked on Vanderbilt Ave by 46th St.  I have seen them once or twice before, but this was the first time I had a chance to stop.
Seeing the truck's side, it was easy to decide what to get – their sign says "The Best Kofta Kabab in NYC".  How can you pass up an opportunity like that?
Today's Lunch is a kofta kabab platter ($7) from the Ambizza Cafe truck.  You can see there was a lot more than kofta kabab and rice on the platter – and they give you a free can of soda too.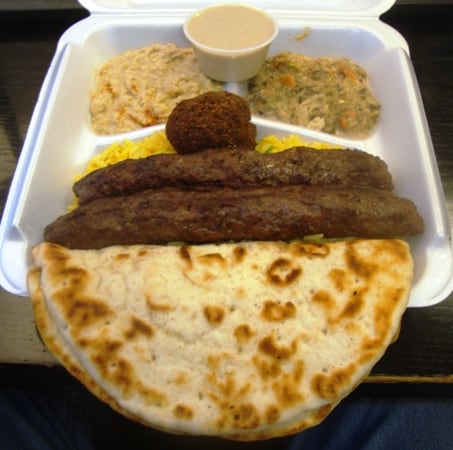 The main course consisted of two kofta kababs that were just under 8″ long each. Yes, I measured.  That's well over a foot of kofta kabab.   (There are about a million jokes I could make here, but I'll leave that up to your fevered little imaginations.)
In addition to the kofta kabab, there was a full complement of yellow rice, hummus (top left), babaganoush (top right), pita bread, and as I said, they even tossed in a large falafel ball and tahini sauce (top center).
The salads come with the platter, but I think they threw in the falafel and tahini because they saw me taking pictures around the truck, and thought maybe I was important.  Lesson: If you want people to think you're important, take some pictures.
You could tell the kofta was cooked on a kabab because there was a small hole in the center from being on a skewer.  The kofta wasn't heavily spiced – in fact it could have used a little more in the spice department – but it was good, especially combined with some of the salads and condiments that picked up the flavor.
The best way to eat this was to tear off a piece of warm pita bread, break off a piece of the kofta, and put a little hummus, babaganoush or tahini in the pita with the meat.  Adding a dash of hot sauce made it even better.  Rotating among the salads and tahini gave me a good variety of flavors to go with the kofta kabab.
The hummus was lemony and tasty, although it wasn't creamy smooth like the hummus at Taïm.  That's ok, very few are.  It was still pretty good.
The babaganoush was even better, with pieces of eggplant and a surfeit of sweet roasted red peppers.  My favorite part of lunch was eating bite-sized pieces of kofta, babaganoush and hot sauce in pita.
The yellow rice was fine, with some carrots and peas in the mix.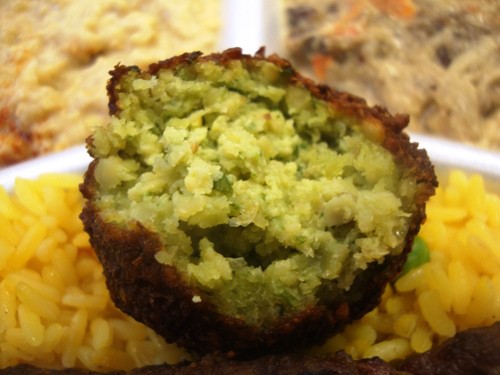 The last thing I tried was the falafel ball, which was larger than at similar lunch places.  It was crispy on the outside and soft, green and herby on the inside.  It even gave off a little steam as I bit into it.
The falafel was a tiny bit dry, but dipping the falalfel into the tahini sauce solved that problem.  The tahini was smooth, and had a great sesame flavor.
Wow, this was a lot of food for $7!  And I was just getting back to normal after Thanksgiving.
Today's Lunch from Ambizza Cafe was good, with a lot of variety.  With the meat, salads, bread and rice, if you didn't care for one thing, there was plenty more to choose from – but I did like everything.
It was also an excellent value, especially with a free soda and tax included in the $7.  The only thing I didn't like was there were no prices on the menu on the side of the truck.  They had paper menus with prices, but everything on the menu was well priced, so it wasn't a big problem.  On the Mediterranean menu, platters were either $6 or $7 and sandwiches were $4.
Was it the best kofta kabab in NYC?  Probably not, but it was still an enjoyable lunch, made even better by the salads included in the platter.
The menu is large, with all sorts of sandwiches and platters, including hamburgers, roast beef, pastrami, parmigiana and more.  They serve breakfast too.  I'm not sure how everything else is, but Today's Lunch was good.