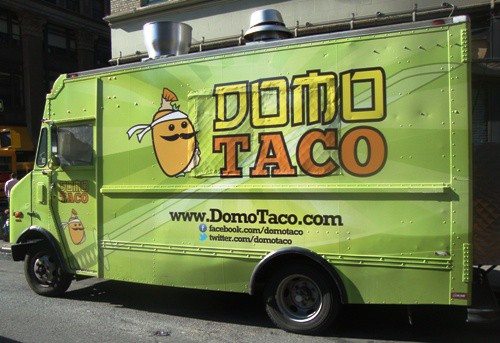 Boy, the things you find by just walking around our great city!  I headed over to the Park Ave food truck corridor yesterday for lunch, and ran across a new truck I had never seen before – Domo Taco.
The guy in the truck told me they have been around for a little while, usually parking around Astor Place, but this was the first day they tried Park Ave (at 30th St).
The Korean taco truck field is getting crowded, and I'm happy to tell you this is not another one.  Domo Taco is more of a pan-Asian taco truck, with elements of Japanese, Chinese and Thai cuisine in the tacos, along with Mexican ingredients.
There are 5 different tacos to choose from, plus rice bowls and a couple of sides.  You can get 3 tacos or a rice bowl for $8.  I went for 3 tacos to try a few different things.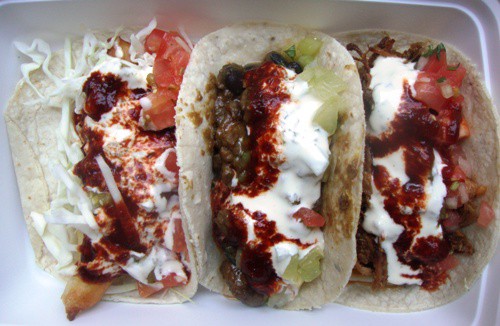 The first taco I tried was the tempura fish taco.  It included a long, thin, single piece of beer-battered fish, shredded cabbage, pico de gallo, crema, and I asked for hot sauce.  Fish tacos are usually my favorite tacos, but this one was not inspired at all.  There was not much fish, and it was just kind of…boring.  The hot sauce didn't add any heat either.
After the fish taco, I picked up the kare beef taco, which had shredded curried beef, cucumber/pineapple salsa, beans and crema.  This was much better.  The beef had a light curry and cumin flavor, and there was a decent amount of it.  The salsa was good, but it was mainly cucumber. I would have liked more pineapple in the salsa, which would have played off the curried beef even better.
The last taco was carnitas – char siu pulled pork, pico de gallo, pepperjack cheese and crema.  The pulled pork was good, as was the crema, but the cheese was a measly little rectangle of jack cheese on one side of the taco, and I didn't see any peppers in it either.  A nice amount of shredded pepperjack would have been very welcome in this taco.
In my opinion, the kare beef taco was the most interesting one, followed by the pork.  The beef and pork tacos also would have benefitted from using two tortillas each, as they both broke during the meal.  As I've said before, there oughtta be a law against using one tortilla on tacos.
Domo Tacos has interesting ideas, but some tacos worked well (beef), while others didn't (fish).  I am curious about the lemongrass chicken taco, and the side dishes look worth checking out too.
You can find Domo Tacos on twitter here or on our Mobile Munchies twitter feed. Their facebook is here as well.