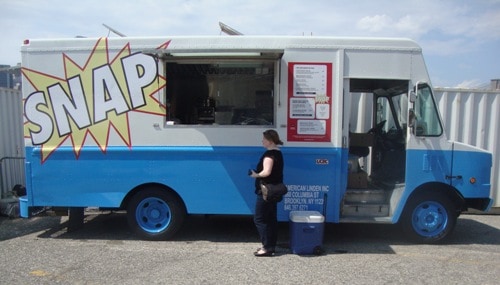 We can never say no to a Chicago Hot Dog.
We first heard about the Snap Food Truck last summer when one of our guests on the New York Street Food Walking Tour told us her friend was opening a food truck in New York that was going to serve Chicago hot dogs.  I gave her my contact info and said her friend should contact me when they were ready to open.
A short time later, I was contacted by Liz, who told me that she and her husband Zeph were running into delays with the truck, but they were still going to be at some events over the summer.  Snap ended up selling their wares at the Hester Street Fair, during the City of Water Day, and as a Guest Chef at the Hearst Building, where we had a NYSF Sneak Peek.
After a successful Kickstarter campaign for the final $10,000 to get their truck on the road. Snap debuted this weekend at Photoville in Brooklyn Bridge Park.
Liz is from Chicago, so for our First Look, we had to go with a Chicago Hot Dog for $5.
It was too hot for something as rich as panko-crusted avocado fries, so we got Belgian Fries for $4.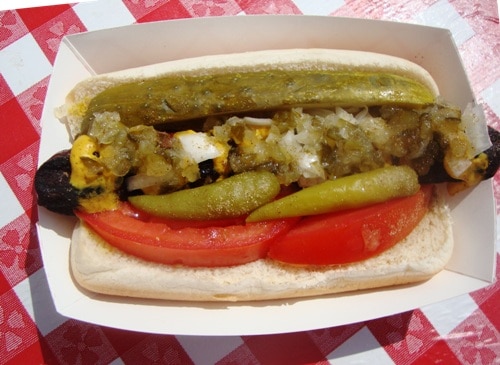 Being a native New Yorker, I'm not too familiar with Chicago Dogs, so let's walk slowly through this one.
An all-beef hot dog shares the bun with mustard, relish, onions, a pickle spear, tomato wedges, sport peppers, and a dash of celery salt.
The hot dog was a bit charred on the outside, but the inside was still juicy, and had a strong enough flavor to taste through all the toppings.
Liz told me the hot dogs were from Karl Ehmer, who first opened a butcher shop in New York in 1932 and is known for the quality of their product.  The hot dogs may not artisanal…but they are good old-fashioned, all-beef hot dogs.
Update – The Snap Truck is no longer using Karl Ehmer dogs.  They are now getting custom hot dogs from Brooklyn Bangers, which are made from organic hormone-free 100% beef brisket.  Snap worked with them on a custom recipe that is as close-as-possible to the classic Chicago Vienna beef flavor, but made right here in Brooklyn with quality ingredients.
As for whether you should get all those toppings, that's up to you.  New York purists might only want mustard, sauerkraut and maybe relish, but millions of people love Chicago dogs, so I wanted to try one out.
My personal taste is mustard and relish, but I did enjoy the raw onions and little sport peppers, which both added a nice kick.
Unfortunately, by the last third of the hot dog, the bun was falling apart from the moisture given off by the tomatoes wedges, relish and pickle spear. After lunch I mentioned the bun problem to Liz. She told me they were trying out a new bun, but the buns were too flimsy, and they will be going back to the ones they used last year.
On the other hand, the twice-cooked Belgian fries were thick and crispy and salted just right.  I hate wimpy fries, and this was a huge stack of hand-cut fries with skins on one side of the fries.  Definitely an excellent batch of fries, although it was too big a portion for me, so I brought some fries home to share.
With the Belgian fries, you can get a choice of freshly-made mayo, ketchup or malt vinegar.
Lunch from the Snap truck was very enjoyable, and I look forward to trying the other hot dogs, burgers and fries on the menu.
As for when you might see the Snap truck on the street, so far they do not have a street permit, but they are trying to get into the rotation for the food truck lots, and will be at special events too.
You can follow the Snap truck on twitter here or on our Mobile Munchies twitter feed.