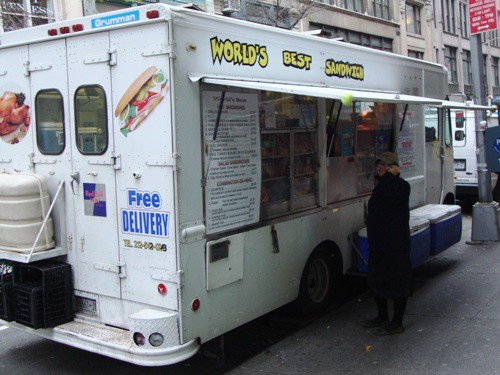 About 3 months ago when I was at the World's Best Sandwich truck (20th St between Broadway & Park Ave), I was almost tempted at the last minute by the Spanish Sub, but went with my original choice, chicken salad on a roll.  It was decent, but I should have listened to my heart!
Today when I went there, the Daily Special was a Spanish Sub (chicken cutlet, mozzarella, avocado, jalapeno, tomato, oil & vinegar for $6), so it was no contest what Today's Lunch was.  Click through to see if it was as good as it sounded.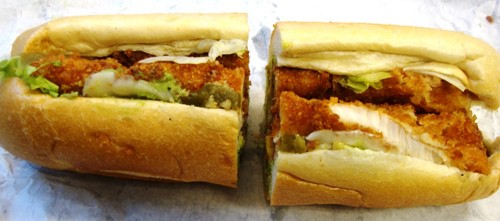 There was a nice sized chicken cutlet breaded with panko bread crumbs, which gave the cutlet some crunchiness and texture.
I'm not sure who came up with the idea of adding jalapenos and avocado to a chicken cutlet sandwich, but they deserve an award.  The jalapenos gave the chicken cutlet some bite, and the avocado added a creamy vegetable flavor to the mix.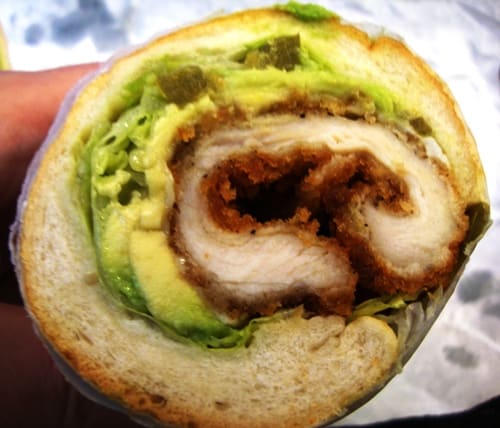 This was almost like having 2 different sandwiches because some bites had chicken, jalapeno and avocado and some bites had chicken, lettuce, tomato and oil & vinegar – kind of a half-Spanish/half-Italian sub.
There was also a slice of mozzarella cheese that I saw, but didn't really taste.  Two slices of cheese would have been better or something a little stronger, such as provolone.
Today's Lunch gets an 8 out of 10.  This was definitely my favorite sandwich in three visits to the World's Best Sandwich truck.  I'm not sure what I'll try next time, but I highly recommend the Spanish Sub if you haven't tried it yet.