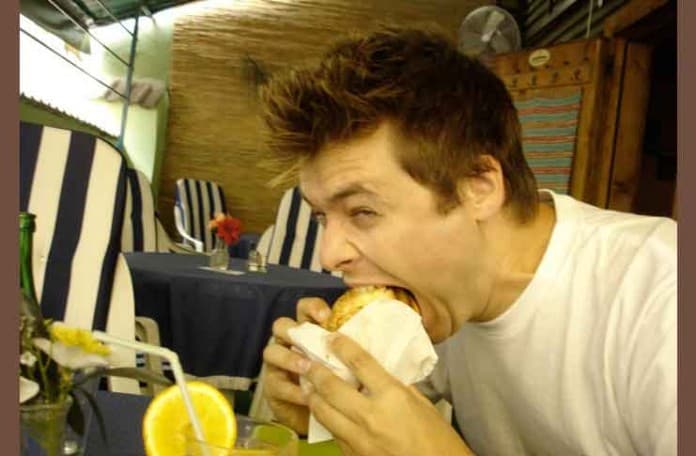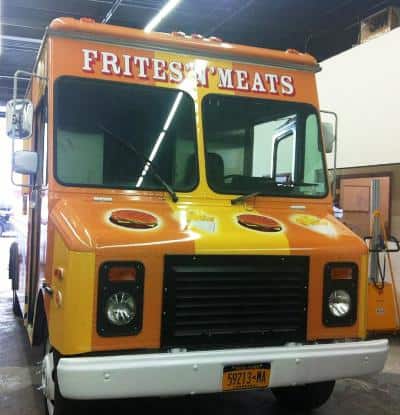 One of the early pioneers of the New York food truck scene is Frites 'N' Meats.  They have been serving delicious burgers and fries to hungry New Yorkers for lunch and dinner for nearly 2 years.
Frites 'N' Meats truly represents New York, with their main ingredients locally sourced – beef from DeBragga, buns from Balthazar Bakery and cheese from Murray's.
Their fries go through the Belgian double frying process to ensure that golden color, with crispness on the outside and soft creaminess inside.
They are constantly coming up with new variations for their Burger of the Week, such as the Southwest Fusion Burger and the Oinker.  We also love their little touches, like the Dum Dum lollipops that are included free with every order.  What a great way to finish lunch!
As most of you know, Frites 'N' Meats had a terrible accident on the West Side Highway in mid-April, and have been off the road since then…but they are expected to be back on the NYC streets Monday, August 8th.
Although Frites 'N' Meats has been very busy gearing up for their return, Hiassam, one of the three brothers (with Moody and Ali) behind Frites 'N' Meats, agreed to grant us this exclusive interview for our next NYSF Featured Vendor Profile.
NYSF: Hi Hiassam.  Thank you for taking the time to speak with us during this extremely busy time.  When did Frites 'N' Meats first open?
FNM: October 2009.
NYSF: How long did it take from the initial idea of FNM to actually serving people?
FNM: About six months.
NYSF: I understand the business was started by someone else. When and how did you and your brothers get involved, and when did you take over the business?
FNM: My brothers helped start the business & were the guys working it every day.  We took over the business from the original owners in October 2010.
NYSF: Did you make any changes when you took over the business?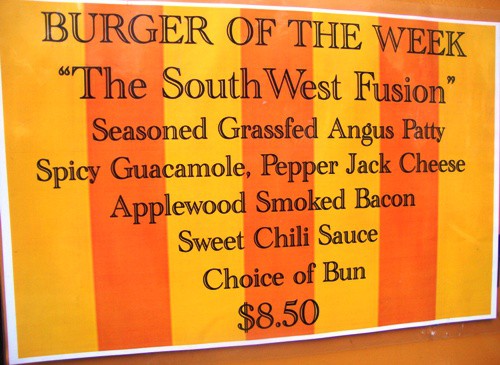 FNM: It was a good product/concept so we did not want to change too much.  Just some minor tweaks – for example we added a few more dessert options, got the fans more involved in the Burger of The Week, and just tried to be a little more consistent.
NYSF: There are many good options for burgers and fries in New York, but Frites 'N' Meats has been successful pretty much from the beginning, with long lines and good reviews. To what do you attribute this success?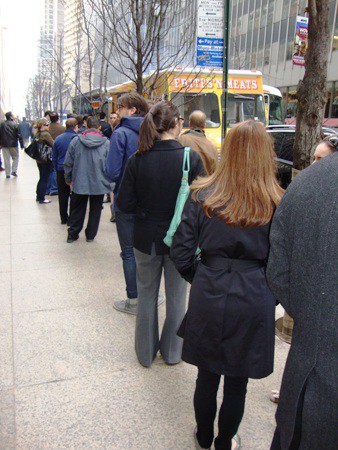 FNM: Consistency and customer service.
NYSF: Obviously, the truck accident was a very difficult time for you and your brothers. What did you learn from it?
FNM: Life is precious!  We also realized how much we enjoyed the business.  There's something special when you put out a great product and you are succeeding with family – it feels great!
NYSF: A number of the other food trucks donated portions of their sales to help Frites 'N' Meats get back in business, and you set up a Paypal account for donations. Can you tell us how much was raised, and how much it took to get a new truck back on the street?
FNM: Between donations from our fans and the other food trucks, we received a couple of thousand dollars.  We want to thank everyone for their donations, it was very thoughtful and generous of them.  Obviously it cost much more to buy and outfit a new truck, but the donations helped us install some additional features that were not in the original truck.
NYSF: How did you find the new truck and where did you get it from?
FNM: We had to do a lot of research to find a new truck.  A car dealer referred us to the seller.  We purchased it from a private owner in NJ.
NYSF: Did you make any changes to the inside or outside design from the first truck?
FNM: The overall design/concept will be the same.  We did have the opportunity to make it more logistically efficient.
NYSF: Frites 'N' Meats had a special burger each week. Do you have plans or ideas for any new menu items or weekly specials?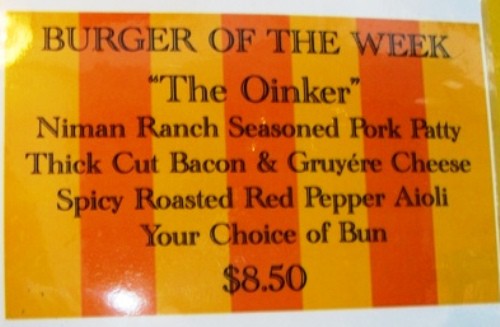 FNM: We have a few, but will first start off with the originals, as we are sure that's what most of our customers want. (NYSF Note: You can see their full menu here)
NYSF: What advice would you give someone who wants to open a food truck?
FNM: DO YOUR RESEARCH!  Many people think you just turn the key and go.  It's not that easy.  In fact, it's harder than ever regarding some aspects (i.e.- parking), although we had our share of police problems before the current crackdown.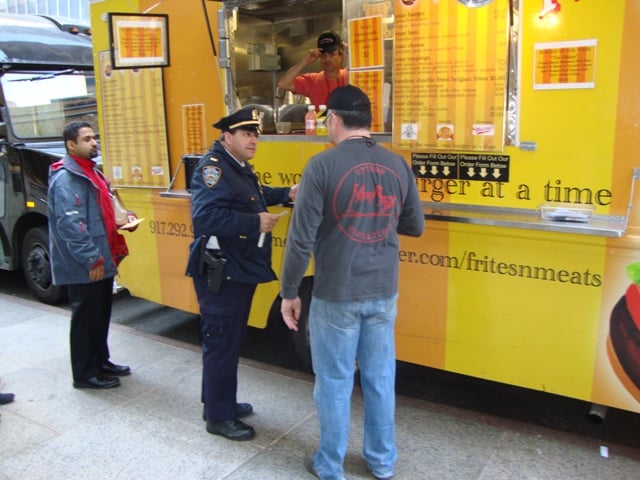 NYSF: Do you have anything special planned for the return of Frites 'N' Meats?
FNM: We would like to do something special for our customers, but we are a little unsure about the timing and venue right now….We will keep you posted.
NYSF: Is there anything else you would like to say to New York Street Food readers?
FNM: We want to thank everyone for their support and best wishes.  Your support helped us tremendously in lifting our spirits and getting us back up and running.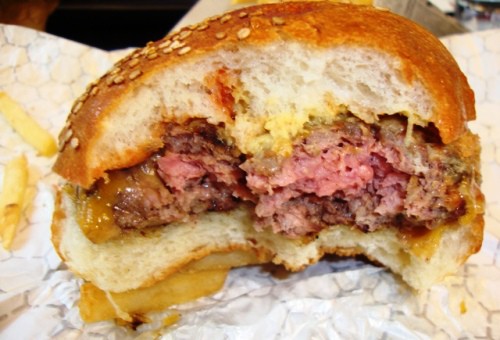 You can follow Frites 'N' Meats on twitter here, facebook here, and their website is here.