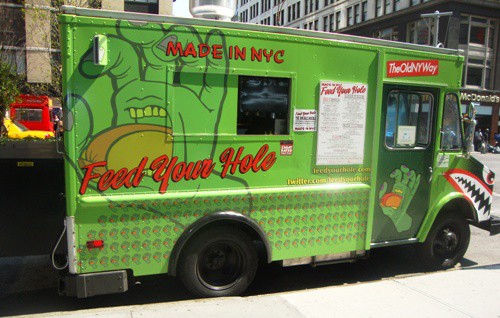 So far on NYSF Burger Week, we've highlighted the great diversity of burgers available on the NYC streets with El Chupacabra, a turkey burger, a "poor man's" burger, and a vegan gojuchang burger.  If you've ever had a Double Double at Feed Your Hole, then you know it's a great way to finish NYSF Burger Week.
The Double Double at Feed Your Hole is double beef, double cheese and double pickles, and it is the most quintessential American burger of the week.  It costs $8.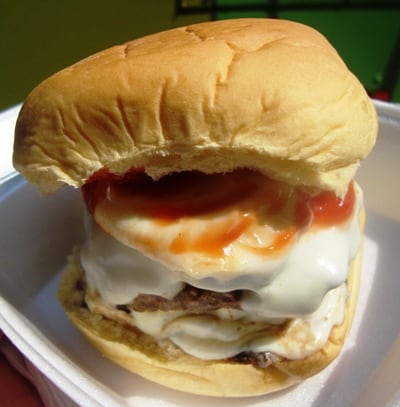 The blend of beef Sean uses at Feed Your hole is very tasty.  The burger stays nice and juicy, and is not fatty at all.  He also cooks it to rare, so there's still some pink in the middle.  I don't like burgers that are too well done, there needs to be some pink in the burger.
Double American cheese is a wonderful thing, as are double pickles.  A little ketchup on there and I was in a happy place.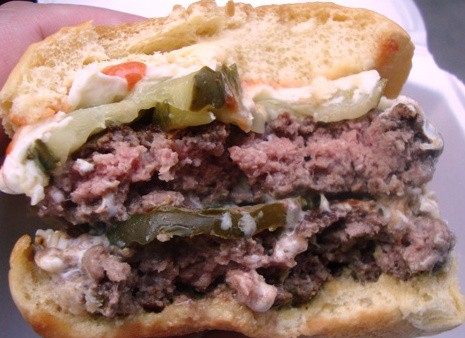 The Double Double from Feed Your Hole was big and utterly delicious.  To paraphrase the song "New York, New York" – it tastes so good, he had to name it twice.
You can find Feed Your Hole on twitter here or on our Mobile Munchies twitter feed.
We know there are many more great burgers available on the streets of New York.  NYSF Burger Week was just a sampling of the great burgers to be had from some of the best street vendors in New York.