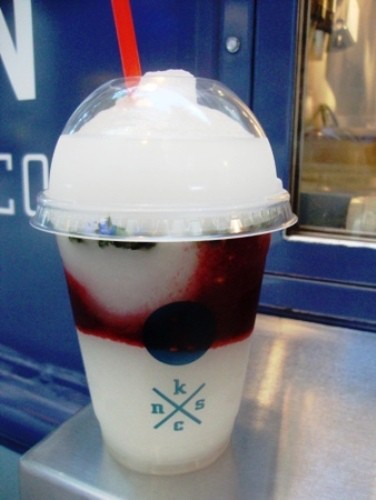 As you may know, Kelvin Natural Slush is named after the Kelvin temperature scale, and the Kelvin temperature scale was named after the celebrated engineer and physicist Lord Kelvin (aka William Thomson, 1st Baron Kelvin) who was born June 26, 1824.
Some of you might also remember from high school science that "absolute zero" (the theoretical temperature at which all molecular motion ceases) is defined as 0 K on the Kelvin scale and −273° on the Celsius scale (and −460° on the Fahrenheit scale).
So to celebrate Lord Kelvin's birthday this Tuesday, June 26, Kelvin will be giving away a free slush to the first 273 people that visit their big blue slush truck or the Ice Cube and say "Happy Birthday Lord Kelvin!!" And if your birthday is June 26th, Kelvin will give a free slush to you and up to 4 of your friends.
Click through for details on how to get a FREE Kelvin Slush.
On Tuesday, June 26th, all you have to do is follow Kelvin Slush on Twitter here or on our Mobile Munchies twitter feed, or call the Slush Phone (646-200-5083) to find out where the truck will be parked.
You can also visit the Ice Cube at Little Red Square (Bleecker St. and 6th Ave.).
Be one of the first 273 people at the truck or the Ice Cube — say "Happy Birthday Lord Kelvin" and BOOM – FREE SLUSH!  There is absolute zero charge (ouch).
Happy Birthday Lord K!