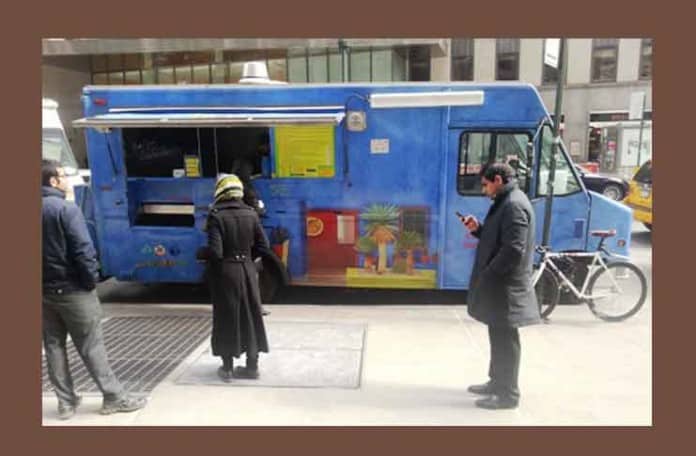 The Food Truck Drive-In on Saturday was a lot of fun with some delicious new food trucks that we tried for the first time.
Today should be a nice day to enjoy some street food from the vendors on the right and the trucks below.  As always, check the pink Mobile Munchies twitter feed on our homepage before heading out just in case your intended food truck had to move at the last minute.
fritesnmeats – Come on Battery Park, WFC, Goldman & BoNY, show us some Burger Love! Were on Murray St bet. West St & N. End Ave. Hope to see lots of you. The dessert this week is INSANE!!! Home-made Vanilla Custard with Blueberries & Strawberries, topped with Home-made Whipped Cream! Kick Ass!
BistroTruck – Dear friends, we are on our way to 11ave and 46st & 47st. For an event . You can stop by to get ur fix or see u tomorrow at the regular spot
StreetSweets – Street Sweets will be on 46th St & 6th Av at least until 4p today.
schnitzeltruck – Water and broad, we're coming atcha at 11:30. Get ur schnitz on. We have a pico de gallo condiment and a chipotle sour cream condiment.mmmm
waffletruck – Happy Monday Dumbonians! We're on Front & Washington til 4:30pm. It's hotter than… Tell us for 1 free dinges.
1 new tweet.
nyccravings – 48th and 6th. Ready! 今天很热. jīn tiān hĕn rè. It is very hot today.
EddiesPizzaNY – today (mon 6/28) we are on 40th between 5th and 6th. closer to 5th ave side. this weeks lunch special is buffalo chicken pizza. Call ahead your order before 11am. 9174397522. Tonight dinner in murray hill.
CupcakeStop – Today we are on Madison and 98th Street, the South Street Seaport and inside the Limelight Marketplace (6th and 20th, 1st fl). Red Velvet, Funfetti, Nutella, Oreo Crumb, Vanilla Chocolate, PB Swirl, Key Lime,Choc PB Cup,Opera,Van Van,French Toast and Triple Chocolate
qbacubankitchen – Hola NYC! Running late, Wall St area noonish. Gracias!
CalexicoCart – Both carts are out and bringing the heat. Today's special is Pollo Verde: shredded chicken in a tangy roasted jalapeño sauce. Enjoy!
GOBurger – Today we will be at seaport at seaport today's special is veggie burger. Come join us you have a great time and enjoy great food.
biggayicecream – This week: on the truck Mon/Tues/Weds, then heading to Maine for a holiday. I miss my mom! New blog post at www.biggayicecreamtruck.com
Hoboken/Jersey City
TheKrave – 6/28 – 12:00-2:00, Hudson & Harborside Pl. 5:30-9:30, Columbus and Marin Blvd. Thanks to everyone who came out to the Food Truck Drive-in in DUMBO. It was an unbelievable success!
laspicetruck – Hudson & York @ 11:45. LST is having a dessert week! Check out the sweet $2 specials.
TheTacoTruck – No service today – the truck is in the shop. Sorry Hoboken!