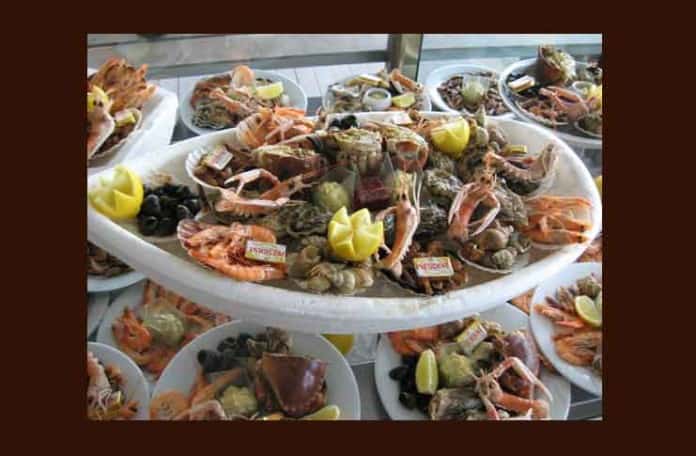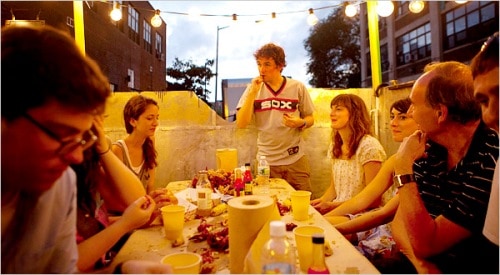 In today's NY Times, they profiled Jen -n- Outlaws Fish Fry Truck and Crawfish Boil in Brooklyn.  As it says on their website, "The only place in New York where you can get your head sucked and your tail eaten at the same time."
I guess they're referring to "the best Catfish Po'Boy and Crawfish Boil east of the Mississippi and north of the Mason Dixon line!  Plus Fried Pickles."
Mr. Outlaw and his girlfriend, Jennifer Catron, are the founders of Jen 'n Outlaw's Fish Fry Truck and Crawfish Boil, a mobile outpost of Southern food and New York chutzpah (in case you couldn't already tell).
Jen-n-Outlaw's is opening up Saturday, August 21 at noon by the Morgan L stop at Bogart.
Paul Outlaw taught some Brooklynites how to eat crawfish.  "You rip it open," he said, demonstrating how to pinch the bottom of the tail to extract a bit of meat. "And then you want to crush the head and suck the brain." Mmm good!
Mr. Outlaw, 30, is from Fairhope, Ala., a town of about 12,000 near Mobile; his family catches catfish with bare hands — noodling, it's called. Ms. Catron, 26, is from rural Southern Illinois, where fish fries are regular events. Both recent recipients of M.F.A.'s in sculpture from Cranbrook Academy of Art in Michigan, they share artistic interests that lie somewhere near the intersection of community, capitalism, patriotism and fun times. The truck is all of that.
"We consider the whole operation our performance," Ms. Catron said, stirring the batter for catfish po' boys while Mr. Outlaw grappled with 40-pound bags of live crayfish. "Whooooo!" he yelled.
On Saturdays the truck will be parked around Bogart Street in Bushwick, and in the fall it will appear in Manhattan, around Chelsea's galleries, with performances beyond cooking onboard.  Spectacle is part of the point. "A lot of these experiments that we do end up with a life of their own," he explained.
At Cranbrook, the couple turned his studio into a bar; he added a bodega. (Hey, had to get cigarettes somewhere.) Ms. Catron does a lot of taxidermy. They last collaborated on a mobile taxidermied farm. "I've got a whole cow in my car right now," he said.
They found the fish truck for $1,500 on Craigslist; it was already painted with an American flag, which they took as a sign. They installed a double fryer and a 120-quart pot for the boil, and added a hydraulic platform with room for a picnic table in the back. They don't know how much they spent on the project, except that, for a couple of artists, it was a lot. "If we had wanted to make money," Ms. Catron said, "we would've been business majors."
On Aug. 8, they made a test run in Bushwick. Since not all their vendor permits had materialized yet, they simply gave the food away: heaping po' boys loaded with slaw and tangy remoulade, and 100 pounds of crayfish, boiled with corn, potatoes, garlic, onion and spices, steaming from atop the picnic table covered in butcher paper. Ms. Catron, in a candy-striped apron and blue Daisy Dukes, her paper hat just askew, leaned out the truck's window. "Have you ever had fried pickles?" she called, offering a batch, with buttermilk-dill dipping sauce. "It's going to change your life!"
A neighborhood crowd lined up: families and police officers, rockers and artists, in Mastodon T-shirts and Topsiders, halters and tattoos. A boom box streamed Southern rock. When the sun set, someone clipped a couple of two-by-fours to the back of the truck and strung up lights. An American flag flew from the front.
Mr. Outlaw, who has a barking voice and a good old boy laugh, chugged Mountain Dew and seemed to relish wrestling with the crayfish. "This one will be spicier," he promised, after every batch. [NY Times]
Follow them on twitter here.