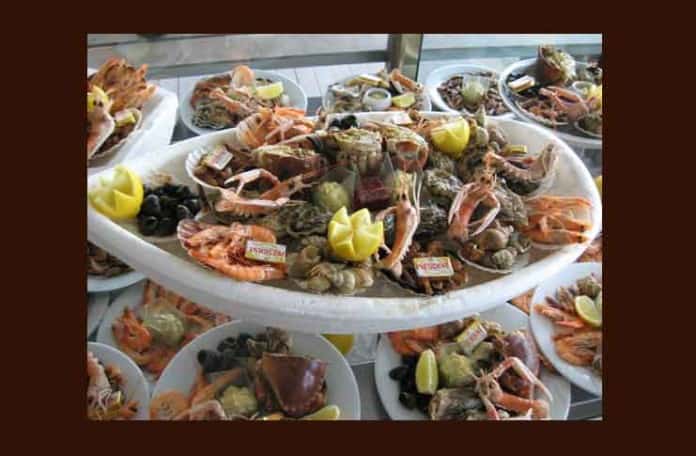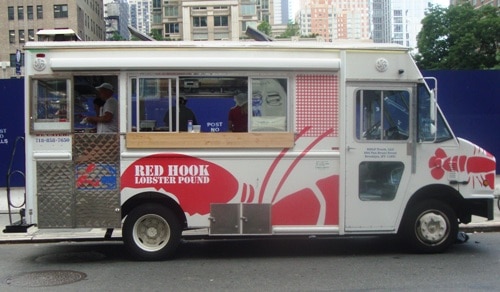 When the Red Hook Lobster Pound tweeted on Friday about having lobster macaroni and cheese, I said to myself "self, you gotta try that!"
There was a line of about 6 people in front of me, which moved at a good clip, but then another 8 or so came up behind me.  Busy day for Big Red on Friday, and lots of people were ordering the lobster mac & cheese, which cost $10.
When I got back to my office and opened the container, I was greeted with a glorious sight – chunks of lobster and several kinds of melted cheese.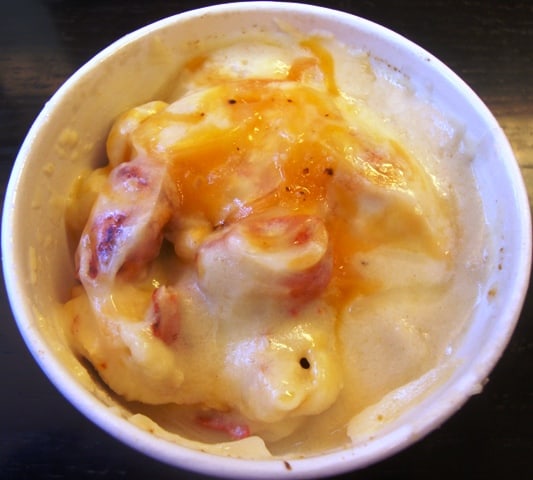 Red Hook said they use 4 different types of cheese in this dish.  I would guess two are cheddar and a parmesan-type cheese, but I couldn't tell you what the others were.  I would guess two different cheeses were used in the sauce, but I didn't have to guess about two different cheeses being melted on top, because there were 2 different colors.
The first few bites were amazing – just chunks of lobster meat and melted cheese. Heaven!
The pasta came into the picture after a few bites, which they said was gobetti.  Think elbow macaroni in a larger size.  The gobetti were perfect for having cheese sauce in the middle, because the holes were larger than regular elbow macaroni.
As I got down into the lunch, there was less lobster.  The large chunks seemed to be gathered more towards the top of the container, but overall, I was happy with the amount of lobster in the lunch.
Obviously, this was a pretty heavy lunch, and it was no problem holding me until dinner.  It's also a really good cold weather dish.  I couldn't imagine eating this in the summer, but now and through the winter it will be great.
Big Red also had three different soups – New England clam chowder ($7), Downeast bisque with lobster, clams and shrimp ($8), and shrimp & corn chowder ($6).  I will definitely have to try these babies out now that it's soup weather.  Maybe  a soup tasting one day for lunch.
Big Red is not usually out on Mondays, but you should be able to enjoy lobster mac & cheese and these hearty soups tomorrow and throughout the winter.
You can follow Big Red on twitter here, but they are also on our Mobile Munchies twitter feed.