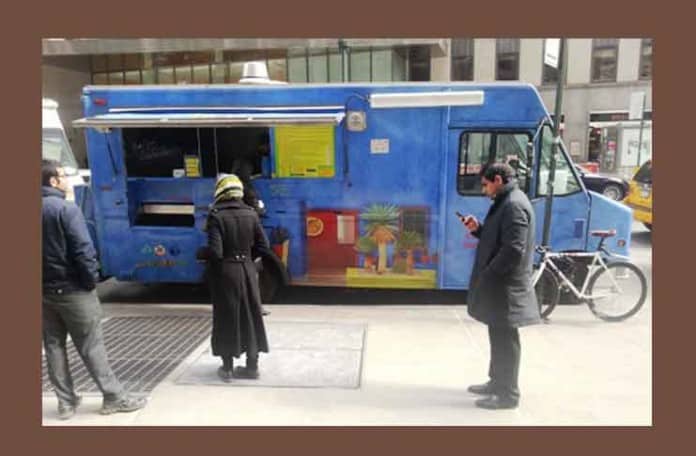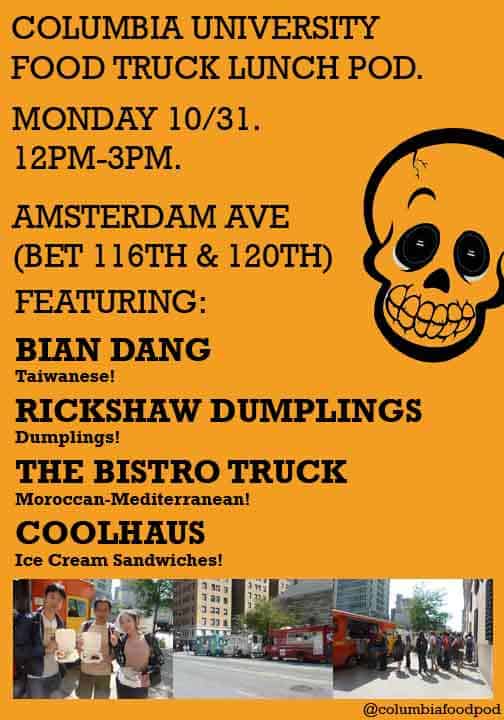 Getting back to autumn, there's another Columbia Food Pod today on Amsterdam Ave from 116th-120th St, with 4 of the top food trucks there.  It's the last official day for Bistro Truck for a while (although we hear they may be part of a free lunch promotion on Thursday, with a limited menu).
There are plenty of other great options around too, from the vendors on the right and the trucks below.
As always, check the Mobile Munchies twitter feed before heading out, in case anyone had to move at the last minute.
gcnyc1 Gorilla Cheese NYC Mon 11-3 55 & 6; Astor pl 4:30-9. this week's special: muenster bacon bbq sauce & tomato. yum!
UncleGussys Here we go Good morning and happy Halloween :)) This is it the start of a beautiful week. Lots of nice days ahead #nosnow
CupcakeStop HAPPY HALLOWEEN EVERYONE!!!
LukesLobsterNY Morning, Monday! On Broadway at 17th st. This weekend was snow fun, huh?
CoolhausNY HAPPY HALLOWEEN! Both T1 & T2 will be out in full-force today! Catch T1 at the Jersey City Halloween Bash 2:30-7 and T2 @Willyburg 1-3…AND…catch our fabulous-looking truck lead the #projectjagger section in the West Village Halloween Parade tonight from 7:00-10:30 PM! YAY
waffletruck Happy Halloween! Le Trick or Truck will be up on 113 & Broadway from 11-4:28pm. CARTS! Le Ghastly Goesting is on W4 & Mercer til all day. Le Bloody Bierbeek is at Columbus Circle til all day. Le Vampiric Vedette is on 60 & 5 til sundown.  Le Kill-happy Kotmadam is at le Great Lawn til sundown. Aaaannnndddd…MARKET! Le Beastly Bryant Park Market is open on 42 & 6 from 11-8. ALLEZ! Scare us = 1 free dinges. Come in costume = 2 free dinges.
New Jersey
TheTacoTruck The truck is heading to Harborside (Hudson St between Harborside Pl & 2nd St) for lunch….see you soon Jersey City;) Mention #munchiemonday 11:30am-4pm at the truck or store & with any order of tacos get 1 extra free taco! Free taco excludes Tacos del Mar.
VeganLunchTruck
The Cinnamon Snail Parked on Sinatra & 1st until 3:00 and then at the Grove St PATH station in Jersey City from 4:00 – 8:00. We…
fb.me/10OYDEynd
LaBellaTorte happy holloween the haunted dessert truck will be in jc tonight for the holloween bash @ the grove street path plaza see you there
TheKrave
Happy Halloween! – 12:00-2:00 Hudson and Harborside Pl. 5:30-9:00 Columbus and Marin
tmblr.co/ZyfrWyBKnU06
. no dinner service tonight tmblr.co/ZyfrWyBKpxIX