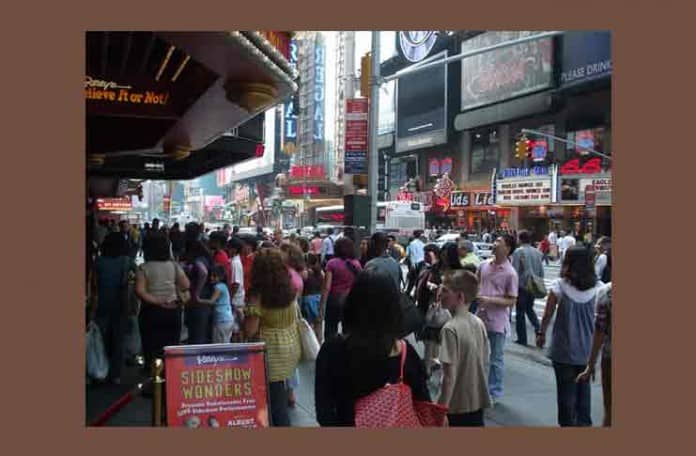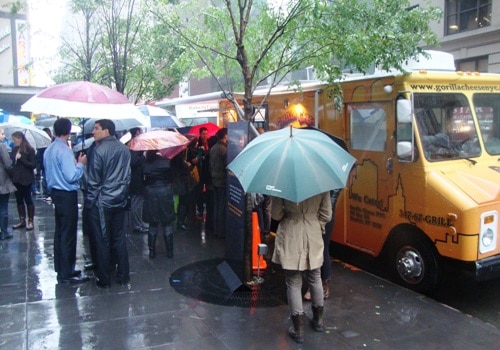 There's a lot of excitement today in the New York Street Food world, with the announcement last night of New York food trucks giving away 20,000 FREE lunches courtesy of MasterCard over the next month.  This promotion will be on for the the next 3 Thursdays, with different vendors each week, but we wanted to give you an idea of what to expect.
The first report that came in said "lunch was a meager sample of offerings", so we stopped by Kimchi Taco Truck and Gorilla Cheese NYC on West 55th St & 6th Ave to see for ourselves.
Kimchi Taco Truck was giving away 2 free tacos of your choice.  While their regular menu has 3 tacos for $7, two tacos is enough for some people for lunch.  The reader said the tacos were smaller than usual, but Kimchi Taco Truck told us they were serving their regular size tacos, just 2 instead of 3.  That sounds like a pretty good deal, especially for free!
Another reader told us "got grilled cheese, a small bacon/cheddar, supposed to have tomato but none on mine! I'm petite & it didn't satisfy but FREE".  We spoke to James from Gorilla Cheese who told us they were giving away full-sized bacon, tomato & cheese (American or cheddar) sandwiches, with a 1/2 order of tater tots.  That sounds like it should satisfy, although we don't know what happened to her tomato or tater tots.  These free promotions can get insane for the vendors.
One strategy you can use if you're worried about small portions is to go to one of the trucks serving desserts.  This week it was Coolhaus and Kelvin Slush, and I'm sure there will be other dessert trucks in the coming weeks.  If you're worried about small portions, you can always buy lunch somewhere and go to one of the dessert trucks for a FREE dessert!
Another reader told us "Got me some free @taimmobile lunch. Thanks @mastercard @nystfood #YUM #freefood #pricelessny"
There are other things to consider as well.  One reader commented "thanks, guys! i just happened to walk down varick and first heard the guy yelling "free lunch" and of course typical cynical NYer wanted to know the "catch"…no catch, i just gave them my email.  other option was to tweet and show them the tweet (i can't do bc i'm not on twitter) or "like" them on facebook.  point is, i'm typing this right now while scarfing down a FANTASTIC falafel sandwich from TAIM. thanks mastercard! i'm laidoff and really needed that free lunch. thanks a bunch!"
Even if the free lunch is a little smaller than usual, it's free!  A lot of us 99% are hurting financially these days, and every little bit helps. Thank you MasterCard.
The MasterCard Priceless NY promotion will be running for the next 3 Thursdays as well, with different vendors each week.  Check back here next week to see who will be giving away FREE lunches next Thursday…and the Thursday after that…and the Thursday after that.