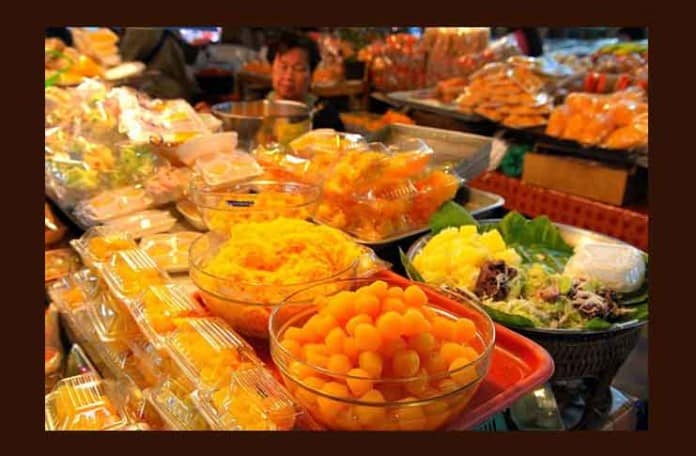 We're getting close to that time of year again – when you will be able to get a nice, cool dessert on almost any corner of the city.
If you've been following Chrissy aka Miss Softee's tweets, you'll know that she has been training a new crew of Mister Softee vendors for this season.  The crew even has a name – The Rolling Cones!
One of The Rolling Cones, Matt, has a blog www.5bsc.com that mixes the NYC food scene with the live music scene.  He reached out to me about possibly doing something together with our websites. I asked if he would like to write a guest post for New York Street Food, and he loved the idea. Here's the article and photos that Matt sent me:
"From I.T. to Ice Cream Man" by Matt Faccenda
I'm Matt, a musician, songwriter, blogger, and ex-database programmer. Soon I will be operating a Mister Softee, soft-serve ice cream truck weekdays/nights in Midtown Manhattan. How'd that happen?
I had been struggling for some time, trying to get out of the IT business, and into something less technical. I wanted to do something at the person-to-person level. I wanted customers to satisfy. Customers who could smile back at me. An occupation without cubicles.
My niche in the IT industry had taken a giant hit when the stock market crashed back in 2008.  Being laid-off became an annoying part of life, and I embraced my inner musician/songwriter to help with my struggling finances. For an independent IT contractor, this was a bad thing.  After being laid-off again in January, I decided to quit corporate America altogether, and redoubled my efforts to find a new direction.
Last month, I saw an ad on craigslist simply titled "Work An Ice Cream Truck".  The ad was well-written, and specifically requested that no one send a resume. All the ad asked for was the reason why I would want to operate an ice cream truck for a living. I responded, and that same evening I received a phone call from Chrissy (aka Miss Softee).
She was very nice, and explained everything to me. A few days later we met for an interview. I was informed a few days after that, that I had been hired. This was a good thing. I could operate during the week, and have weekends free to work with my band, Mr. Neutron. The decision was easy. Simplicity at last! But there was much to be done before I could show up in Midtown, and start serving up summer.
Becoming a Mister Softee vendor is not as cut-and-dry as one might assume. The first order of business is to get licensed, which involves meeting various health department requirements. Training comes right after licensing …
1.       Register for a Mobile Food Vendor course: This is a course about the safe handling of food in terms of cleanliness, and preventing food borne illness from contamination. The fee to register for this course is $53, and you go to register at 42 Broadway in Manhattan.
2.       Apply for a Certificate of Authority to Collect Sales Tax: You need this certificate in order to collect sales tax in The City of New York, and also to apply for your mobile food vending license.
3.       Attend the Mobile Food Vendor course: The course is two days, and is conducted in Harlem. It requires that you pass a written exam in order to be certified. The date and time of your course is given to you when you register at 42 Broadway. Upon passing the exam, you get documentation to prove it.
4.       Apply for a Mobile Food Vendor License: Once you have your course certification, and the certificate of authority to collect sales tax, you can apply for your license.  There are a LOAD of forms to fill out, and must be filled out a certain way (Miss Softee helps a lot with this process).  The fee for the license is $50. You wait 3 weeks for this to process.
5.       Mister Softee Training: Some trips to the depot are necessary for training. Everything from making items that are on the menu, to care, and handling the truck (they are enormously heavy, and have a constant electrical power requirement).
My experience so far has been great, and is being chronicled on my blog at http://www.5bsc.com/5bscblog/ (works equally well on your mobile device or your desktop). See the "Mister Softee" category. I have completed steps 1, 2, and 3, and am waiting for my tax certificate to arrive in the mail.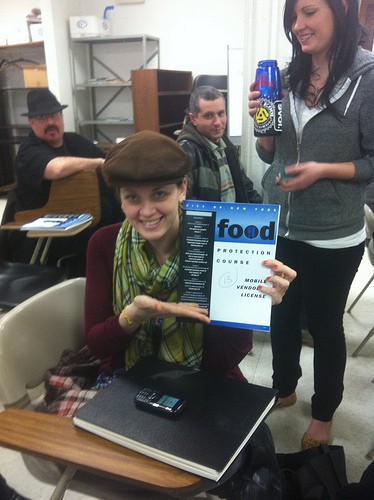 Thank you Matt for the article on the basics of what it takes to be a Mobile Food Vendor in New York City.  Please keep us updated once you're out on the street for a little while.  We would love to hear how it's going.