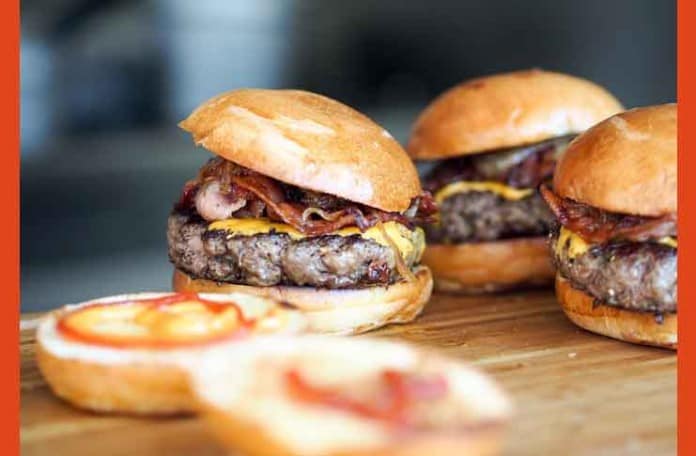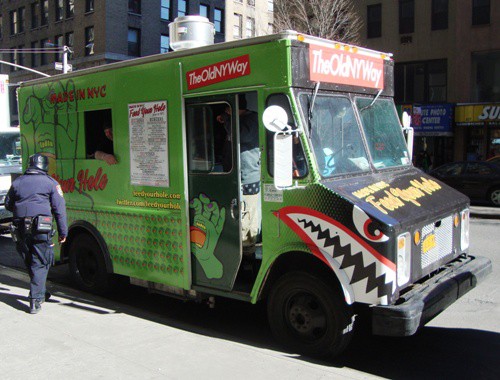 After trying a Porky's Dog and fries from Feed Your Hole last week, I wanted to try something a little more complicated.  Last Friday they had a Broadway Burger special that seemed to fit the bill, but I've been sick and didn't get a chance to write it up until last night.  It wasn't Today's Lunch, but it was so good, I had to let you know about it.
The Broadway Burger ($10) is an 8 oz patty of grass fed beef, cooked fresh, with goat cheese with a red wine reduction, caramelized onions and baby spinach.  I also got an order of chili cheese fries ($5) because I wanted to try their chili.
This is more than I usually spend for lunch, but Feed Your Hole is going to be the next New York Street Food Featured Vendor, and I wanted to try a few more things before interviewing Sean, the owner.  Every Broadway Burger also came with free fresh baked homemade chocolate chip cookies.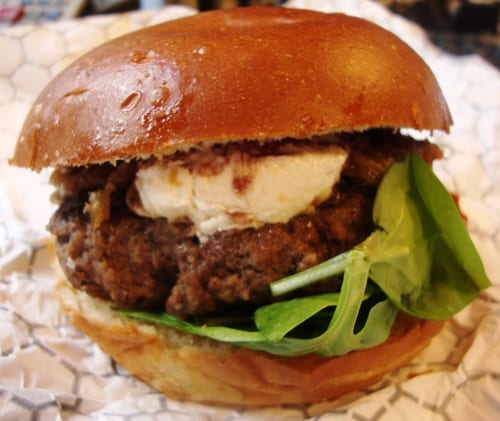 When I opened up lunch, this was a huge burger!  I took a bite on the edge, and tasted pure, high-quality beef.  This burger was easily half a pound, and there was no filler, just beef.  There may have been a few seasonings in there, but the taste was overwhelmingly pure beef.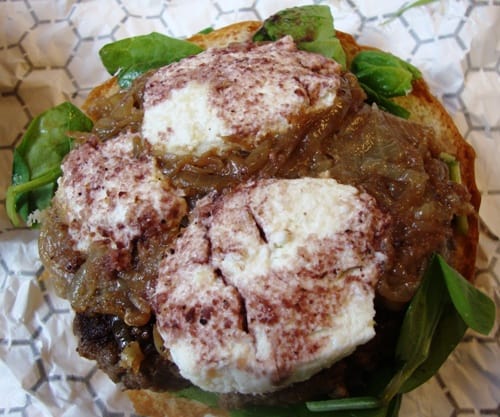 There were three pieces of goat cheese with a red wine reduction on top of lots of onions.  I wouldn't call them caramelized, but they were definitely well sauteed, and they were plentiful.  The baby spinach was placed under the burger, which helped keep the bottom of the bun from getting too soggy.
The goat cheese, red wine reduction and baby spinach went really well together, and they turned out to be great toppings for the burger, which was cooked to medium as requested.  The goat cheese easily stood up to this giant burger, the red wine reduction added some nice flavor, and the baby spinach had a bit more oomph than plain old lettuce.  This was an excellent burger, which justified the $10 price.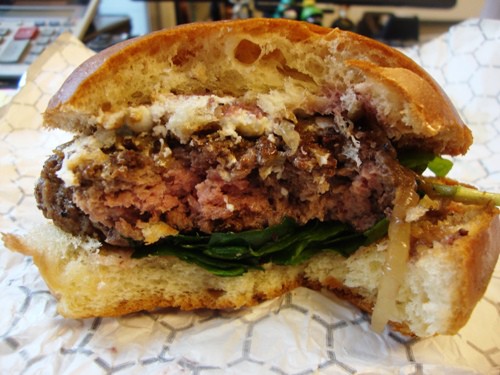 The bun was very good too.  It had a slight eggy flavor, and was really soft and airy.  It stood up just fine to everything inside it, and didn't get soggy or fall apart at all.  I was told the buns come from the Terranova Bakery on Arthur Avenue in the Bronx.  If you're not familiar with Arthur Avenue, it's a real Little Italy in the Bronx, much more so than the touristy Little Italy on Mulberry Street.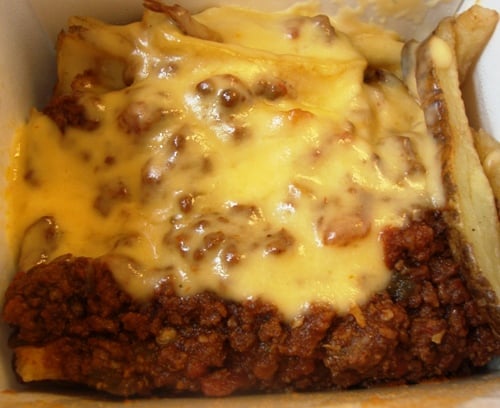 Next up were the chili cheese fries, which came in a Chinese-style takeout box.  I opened the box, took out the fork, and dug in.  The chili was sweet and tangy, with a bbq type sauce with peppers but no beans.  I actually prefer a bbq-type chili to a cumin-type chili, and this was right up my alley.
Excellent, and with the melted cheese on top and fries underneath, this could have been a meal unto itself.  There was also plenty of cheese towards the bottom of the fries.
A half pound burger and chili cheese fries is a very big lunch, but a hot dog and chili cheese fries would be just about right for me.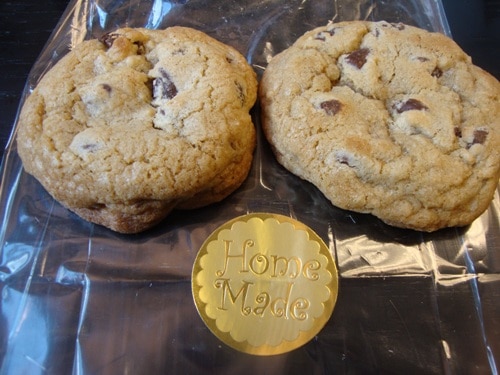 For dessert, the Broadway Burger came with two free chocolate chip cookies.  You can't really tell from the picture above, but they were pretty thick and had tons of chocolate inside.  The picture below gives you a better idea.

This was an awesome lunch from Feed Your Hole.   It was more food and cost more than my usual lunch, but all of it was delicious and high-quality.  You can check out their regular menu here.
This week's special burger is a Charlie Sheen – 2 thin beef patties with cheese and a grilled hot dog in the middle.  Hmmm…