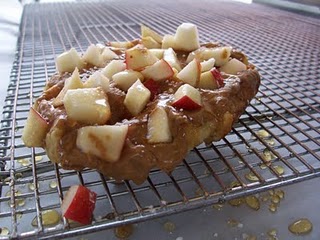 One of the absolutely best dessert vendors in the city is Wafels & Dinges.  In fact, they won Best Dessert at the 2009 Vendy Awards.  But you already knew that.
Even though we love their regular menu, we always have an eye out for their Weekly Special.  They regularly come up with interesting and delicious creations for the Weekly Special.
When ordering any wafel, you first have to decide on either a Brussels or Liege wafel.  The Brussels wafel is lighter and crispier.  The Liege wafel is denser, sweeter and chewier.
One of our favorite Weekly Specials was the P-Nutty Professor, which cost $7 (photo above).  I usually get the Liege wafel, and this one came with creamy peanut butter, bananas, real Belgian cocoa sauce and confectioner's sugar on top.  It was as good as it looks (and sounds).
As Elvis knew, bananas and peanut butter is a great combination – and Belgian cocoa sauce takes it to another level!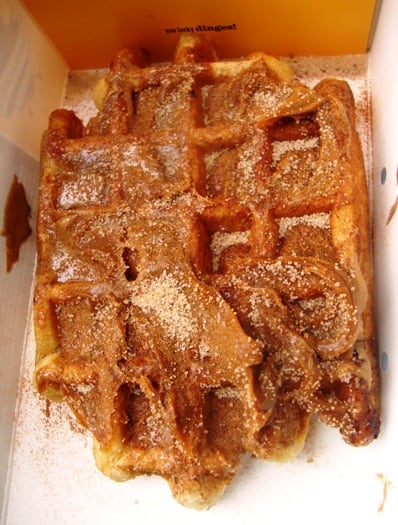 Two weeks ago the special was the El Churro Wafel, which cost $6 (photo above).  If you've ever had a churro, this was a pretty great homage.
It was a wafel with dulce de leche and cinnamon sugar, which was liberally sprinkled all over.  The only thing missing was thick hot chocolate to dip it into, as they do in Spain.  It wasn't as light and airy as a churro, but it was unbelievably delicious!
This week's special is "de peak-a-blu" wafel (below), which has pecans, blueberry coulis and whipped cream on your choice of a Brussels or Liege wafel. Yum!
Wafels & Dinges has 2 trucks and 3 or 4 carts around the city.  You can find their locations and the Weekly Special on twitter here, their website here, or our Mobile Munchies twitter feed.