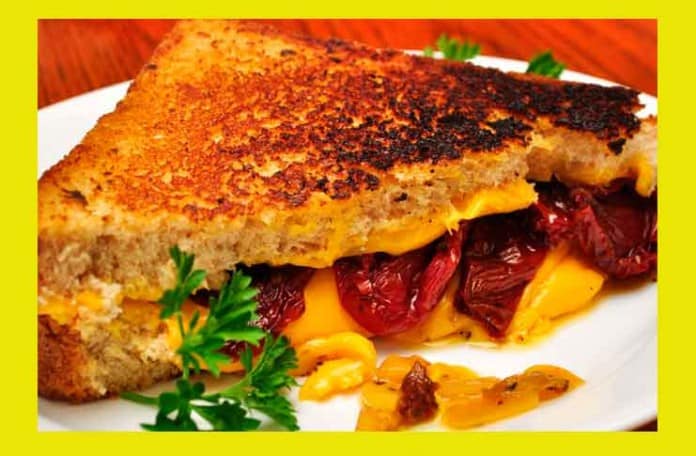 Everyone's been talking about the new Double Down sandwich at KFC.  No doubt that sandwich is truly disgusting.  I love street food, but won't go near the Double Down.  I won't even show a picture of it.
Although the following dish is real food as opposed to fast food, I was still pretty stunned when reading about the grilled mac and cheese sandwich from the Grilled Cheese Truck in L.A.   Friday's Recipe is the grilled mac and cheese sandwich.  Just make sure your Lipitor prescription is filled first.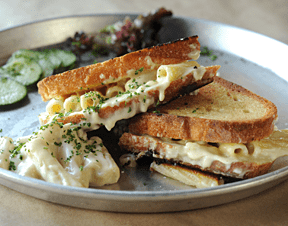 Grilled mac and cheese sandwich
5 ounces butter (plus more, for the sandwiches)
6 ounces flour
5 cups whole milk (very hot)
1 tablespoon dry mustard
1 teaspoon garlic powder
1 tablespoon kosher salt
Pinch of cayenne pepper
5 ounces shredded fontina cheese
5 ounces shredded smoked gouda cheese
6 ounces blue cheese
1 pound rigatoni, cooked
Crusty bread, for sandwiches
Toss the butter and flour into a saucepan and cook over medium heat until the roux (that's what you're making) has bubbled for about 4 minutes. Slowly whisk in the hot milk. Add dry mustard, garlic powder, salt and cayenne. Continue stirring for about 4 minutes. Keep stirring and toss in the cheese; keep stirring until smooth. Scrape all this into a bowl with the noodles and mix until well coated.
Slather the tops of some crusty bread with butter; spread a thick layer of mac and cheese between a couple pieces, and grill, flipping once, in a cast iron skillet until the cheese oozes out. [pnj.com]