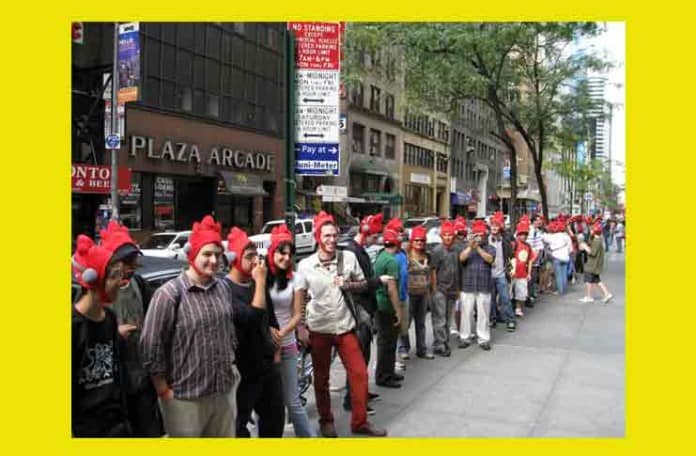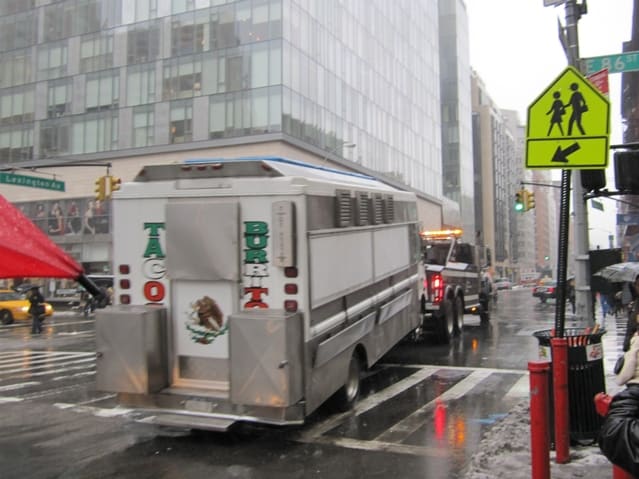 From DNAInfo: Paty's Taco Truck, which has built a loyal following on the Upper East Side corner over the last two years but was ousted from the neighborhood more than a month ago, was towed away by the NYPD just after 1pm today (Tuesday).  The truck has been on Lexington Ave between 86th & 87th St for more than 2 years, but was forced to move to Morningside Heights (by Columbia University) due to a concerted ticketing blitz and the arrest of the owner's son.
"They told us we had to move or we'd be towed," Loera explained as the cops rigged the food truck to the tow truck.  They gave Paty's truck a $55 summons saying it was not allowed to sell merchandise from a metered spot, Loera said. His mother, Patricia Monroy, who does not speak English, made the ultimate decision to stay put once her family translated what the cops were saying.
Roughly eight officers in a police van had been monitoring Paty's the entire morning, said Sean Basinski, director of the Street Vendor Project, an advocacy group based at the Urban Justice Center.  But no one anticipated the towing.
"Even if they were breaking parking rules — and I don't think they were because I don't think food is merchandise — that's why they get a ticket. But that's not a worth a tow," Basinski said.  The food truck was careful to follow parking rules, Loera said.
It arrived on the Upper East Side about 10:15 a.m., changing spots about 11 a.m. and again an hour later.  Loera and his mother, who was tearing as the truck was being towed, hopped in a cab to follow it. They did not want a repeat of the last towing, when all of their perishables and other items — including its generator — had been removed from the truck, Loera said.  After they paid the $370 to get their truck back in November, they had to take out a $5,000 loan so they could restart the business that provides the livelihood for six families, Loera said.
Paty's had faced the ire of several residents on Community Board 8, who complain about food trucks in the area.  They worry the trucks are illegally hogging metered parking spots and that they are unfairly competing with struggling brick-and-mortar stores.  But Loera had been determined to come back to where he built a loyal following in more than two years in the neigborhood.  Many in the neighborhood were delighted last week when Paty's had its soft opening in the evenings before heading down to Union Square where it feeds a late night crowd.  "Their veggie tacos are really good," said Barkha More, an accountant who lives a block away and gets her dinner at Paty's at least once a week. "I was going to go down to Union Square to get them."
From New York Street Food: While most of us who read New York Street Food enjoy and patronize food trucks, we must remember that not everyone does.  The following comment was placed on our Mobile Munchies post this morning:
"These trucks are popping up on every corner taking parking and adding generator noise and smells. The food is cheap and good yes but at what cost to the city? Cheers for the NYPD. The vendors have a group called THE STREET VENDOR PROJECT, a completely one sided organization. Pushback on street vendors is coming. Pedestrians have rights. Storeowners have rights. Residents have rights. In Chelsea there is an average of 2 new food trucks per day. Many do not move the trucks at all. Imagine you live on the second floor for years and one day a huge truck with a generator pulls up and starts the generator. The smell overwhelms you once humble residence. It is happening all the time. Lets not make our city into an American version of Calcutta or Cairo with street vendors everywhere."
Our response to the above comment: "We understand that not everyone loves food trucks, which is why most of the truck owners are very careful and sensitive to complaints from local residents and businesses. The maze of rules and regulations is also a great source of confusion for truck owners and police alike. Greater clarification of the laws governing food trucks would be beneficial to all"