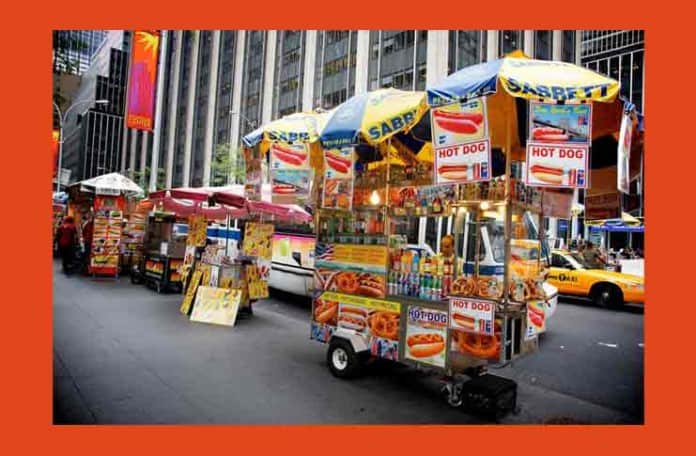 Even though I had lunch at the Comme Ci Comme Ca truck today, the Air France free food promotion was in full swing only a few blocks away, on 42nd St between 7th Ave & Broadway.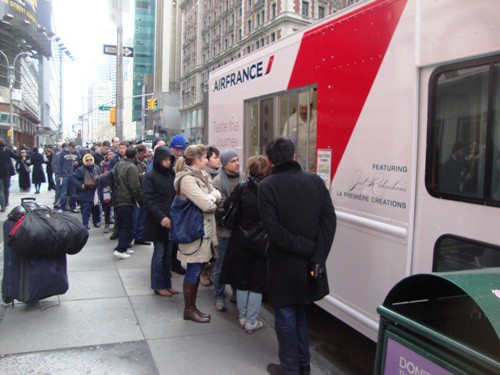 The line was pretty long, but since they were giving it away for free, I didn't wait more than about 10 minutes.
How was the food you ask?  Very good.  Click through to find out more, including where you can get free food over the next 5 days courtesy of Air France.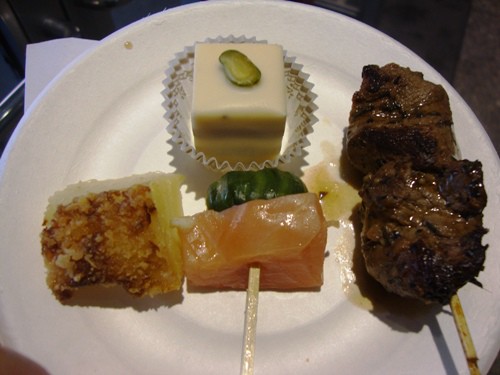 There were 4 items included on the plate.  From the right going clockwise:
The grilled beef filet was very tender and tasty.  It was high-quality beef with a nice red wine sauce.  The smoked salmon and cucumber were a nice cool couple of bites.  The potatoes au gratin were thinly sliced potatoes baked with a cream sauce and topped by grated cheese.  For dessert, there was a yummy petit four.
The food was delicious, but don't expect it to be lunch-sized.  I'm glad I stopped by the Comme Ci Comme Ca truck for lunch, because this was really just an excellent snack.
The Air France Food Truck will be giving away free breakfasts, lunches and dinners through Monday.  Click here for the schedule and locations, although you might want to check their twitter account here in case they get chased from a particular spot.
Air France fully supports City Harvest, with a donation box right by the truck window.  After picking up your free food, make sure to put a few bucks in the City Harvest box for people who really need it.
Below is the menu, which will be the same throughout the promotion.