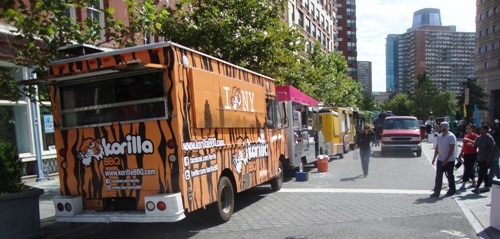 There are still plenty of great street food festivals in the area, and one of our favorites is this weekend. The 2nd All About Downtown Festival takes place this Saturday, Sept 29th in Jersey City. For the New Yorkers out there (like us), it's only 2 stops from Manhattan on the PATH train.  Last year, we were surprised at just how easy it was to get there from NYC.
Click through to see exactly which food trucks will be there, and what other activities will be available.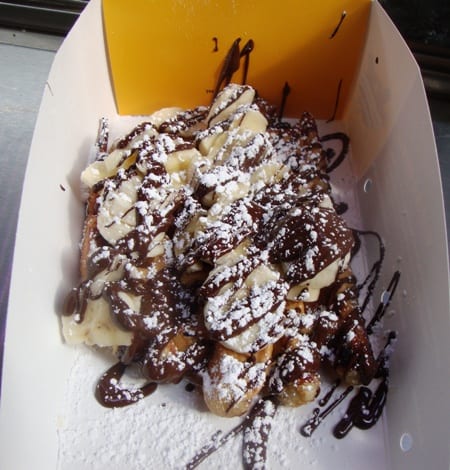 Thousands of people are expected to attend this year's All About Downtown Festival to enjoy more than a dozen food trucks, hundreds of other vendors, live music, and over 70 handmade artists, including the Jersey City Craft Mafia!
The event runs from 11am-8pm on Saturday September 29th. It starts at the Grove St PATH station and goes down Newark Avenue for several blocks.
The 13 confirmed food trucks are: Cinnamon Snail, Coolhaus, Kelvin Slush,  Korilla BBQ, Marky Ramone's Cruisin' Kitchen, Morris Grilled Cheese, Phil's Steaks, Red Hook Lobster Truck, Souvlaki GR, Taste of India (NJ), The Taco Truck and Wafels & Dinges. Oops, that's only 12.
Wow, that's some lineup! 8 of the food trucks are current or former Vendy Award Winners & Finalists, and they are all delicious!
There will also be a children's area for families in the All About Downtown Festival, and beer & wine available for adults. Either way, it's a good time.
The All About Downtown Festival is put on by the HDSID (Historic Downtown Special Improvement District), a public-private partnership through which property owners and business owners have a direct impact on Historic Downtown Jersey City neighborhoods and their development.
For more information, check the Facebook page here.
New York Street Food is a proud sponsor of the All About Downtown Festival for the 2nd year in a row.