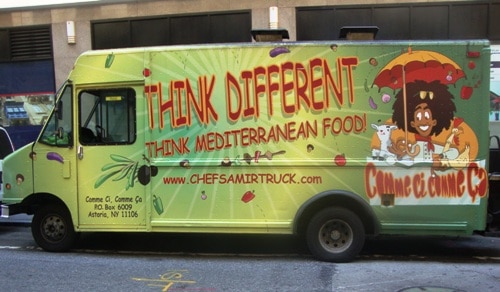 Ever had Veggie Couscous? Well, as a food writer, we sometimes have to go outside our comfort zone. We're usually big meat-eaters, but understand that not everyone else is.
The Cinnamon Snail is probably the best-known vegan food truck in the city, but one of the better options for vegetarian food may surprise you – the Comme Ci Comme Ça truck.
Much of the menu is meat-centric, but Chef Samir has put together a nice vegetarian section. Choices include fire-roasted veggies over basmati rice or on a ciabatta roll, a veggie burger, and what we ordered, vegetarian couscous for $8.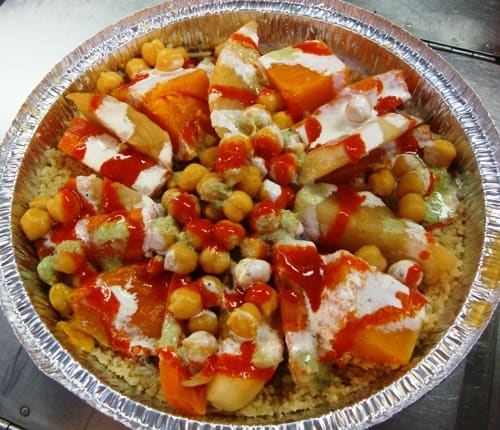 One of the things we really enjoy at Comme Ci Comme Ça is being able to get cous cous. We probably have rice the majority of our lunches, with bread a distant second. Cous cous is a great alternative.
After putting cous cous in the container, various veggies such as potatoes, carrots, sweet potatoes and chickpeas were placed around the dish. Then, 3 or 4 spoonfuls of broth from the cous cous were ladled over the veggies.
As for sauces, there are 4 choices: white Casablanca sauce, spicy green mint sauce, red spicy Andalusian sauce and green olive sauce. We got the green olive sauce, some white sauce, and some hot sauce.
The Veggie Couscous was delicious. The veggies were large and substantial, and cooked just right. They were soft, but with some firmness still in each bite.
The sauces picked up everything nicely, and definitely added a few more flavors to this dish. The hot sauce wasn't too hot, which is good with veggies having a milder taste than meat.
The Veggie Couscous was light, but quite tasty, with all the juices from the broth and veggies soaking into it.
While we are unlikely to become a vegetarian, lunches like this certainly gave us a better understanding of the appeal. It was clean tasting, healthy, and filling, but not with that rocks-in-your-stomach feel.
You can follow the Comme Ci, Comme Ça truck on Twitter here or on our Mobile Munchies Twitter feed.
Another excellent dish you might want to try is their veggie cigars appetizer, which we had a while back.  Looks pretty good, doesn't it?