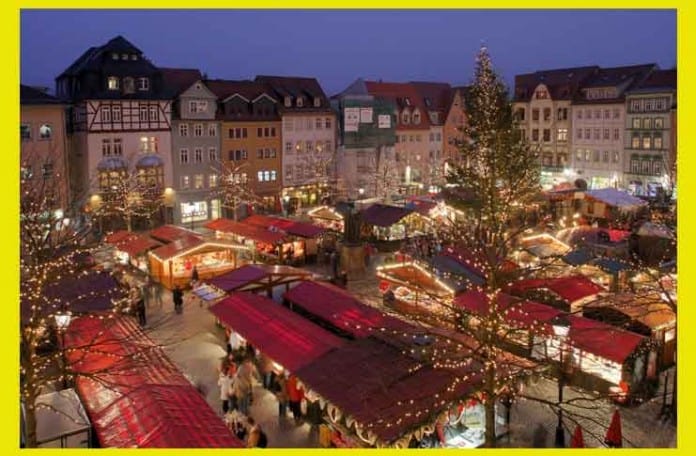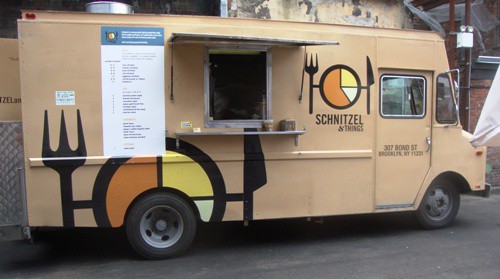 I had to speak with a couple of the food truck owners, so I headed over to the Lot on 30th St yesterday where they were parked.  And since I was already there, how could I not get some schnitz?
I just love the chicken schnitzel platter ($10) from Schnitzel  Things.
I've been to Schnitzel & Things many times – in fact S&T was the 1st food truck I ever went to over 2 years ago.  I've been through a lot of schnitz since then, and was still looking forward to enjoying them again.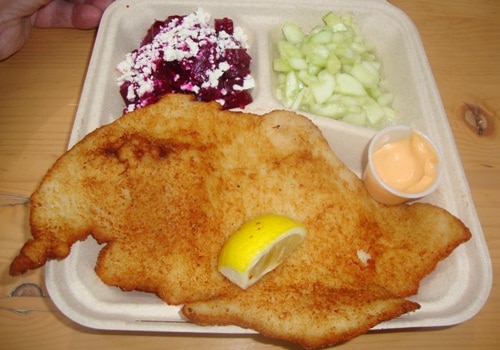 Each platter comes with 2 sides, and I usually get beet & feta salad and cucumber salad.  I didn't like beets when I was younger, but I've had a few dishes with them recently, and I really like the beet & feta salad from S&T.  The beets are firm but mild, and the feta gives them a little edge.
While the side dishes here are very good, the main reason people come here is for the schnitzel.  Just look at that huge chicken cutlet, fried to a golden brown.  It never fits in the container, and I never care.  It's tender and juicy and deliciously awesome!  All dishes come with a sauce, and I got the spicy chili mayo, but all you really need is a little squirt of fresh lemon.
There's a good reason S&T has been nominated for Vendy Awards the past two years, winning the Rookie of the Year Award in 2009 – because their food is that good!  Their food is as tasty as it was the first time I had them two years ago, and they show no signs of letting up.
And if you can't follow the truck on twitter, you can always go to the storefront they opened a few months ago at 723 Third Ave (45-46 St), where you can have all schnitz all the time.  Sounds like a plan.