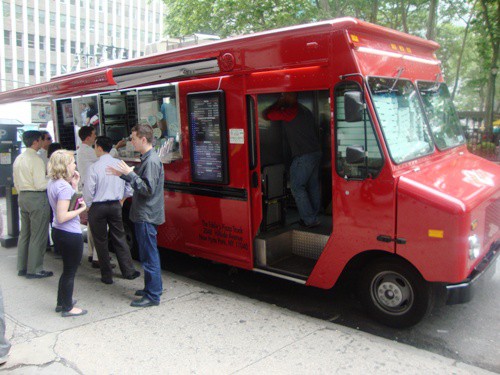 It's a beautiful day out. Make sure to get some sun and great New York Street Food during lunch from the vendors on the right and the trucks below.
Red Hook Lobster is trying a new lobster roll at the LIC Food Truck Lot with apple chipotle mayo and bacon for only $10.  Now that's a good deal.
Lots of other great choices too including Eddie's Pizza's new cart in Tribeca and spring rolls from Big D's Grub Truck.
As always, check the Mobile Munchies twitter feed before heading out, in case anyone had to move at the last minute.  The police have been very active in midtown this week.  Papa Perrone even had to leave his long-time spot on 55th St and is on 23rd St today.
gcnyc1 Gorilla Cheese NYC SoHo 11-3 Varick & King…Shaaawinggg…
bongobros 20th St and 5th Ave today from 11:00 to 4:00!
fritesnmeats Hellooo soho, lunch today @ Hudson & king across the street of the usual spot! Burger of the week THE BYMARK! And dont forget about our home made desSert treats we go jumbo walnut chocolate chip cookies :@ Preorder 9172929226 #mobilesecret
waffletruck WOWednesday! Le Truck is on Hanover Sq btwn Water & Pearl til 4:28pm. Le Roaming Carts! Le Goesting is on Greenwich & Murray Le Bierbeek is at Columbus Circle. Tell us what you want to be when you grow up for 1 free dinges.
New Jersey
qbacubankitchen change in itinerary…headed to JC today!