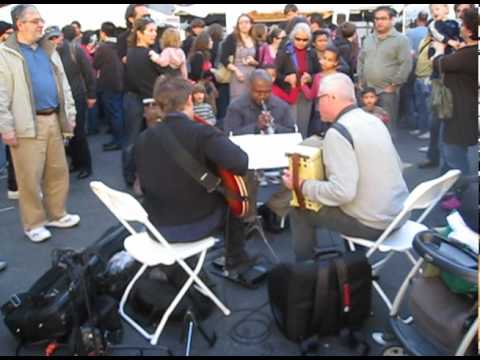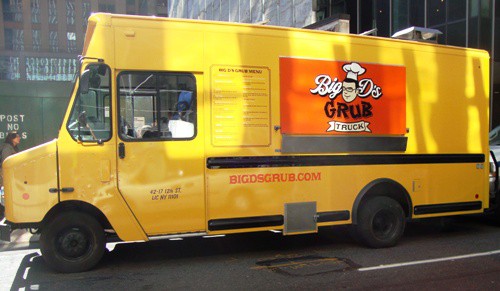 I was on my usual route yesterday morning to the Houston St station when I spotted a yellow truck on Hudson St just below Houston.  I'm used to seeing the blue Sweetery NYC truck there, so I went over for a closer look. (Sweetery was back there today.)
It turned out to be Big D's Grub Truck, who started serving breakfast about a month ago.  I've really enjoyed their Korean tacos and grinders, but I'm not usually much of a breakfast eater.  My lunches are so calorie-filled that I try to have just a yogurt for breakfast.
Nevertheless, a breakfast burrito from Big D's was something I couldn't pass up.

The breakfast burrito comes with eggs, peppers and onions for $3.50 and you can add bacon, sausage, spam and cheese for $.50 each, or corn cakes for $1.50.  Big D also offers Spanish omelets and corn cakes with similar options and prices.  You can see the full breakfast menu here.
I got sausage and cheese in my burrito, which also comes with a small container of salsa on the side.
I didn't eat the burrito until I got to the office, but it was still hot, and the cheese was still melted.  The small bits of peppers and onions added some flavor, and the sausage, which was cut lengthwise, was great.  I've always loved the taste of breakfast sausage.
All of these ingredients and eggs were cooked together and wrapped snugly inside a soft flour tortilla.
What a delicious breakfast, and a great way to start the day!
Follow them on twitter here, facebook here, and their website is here.