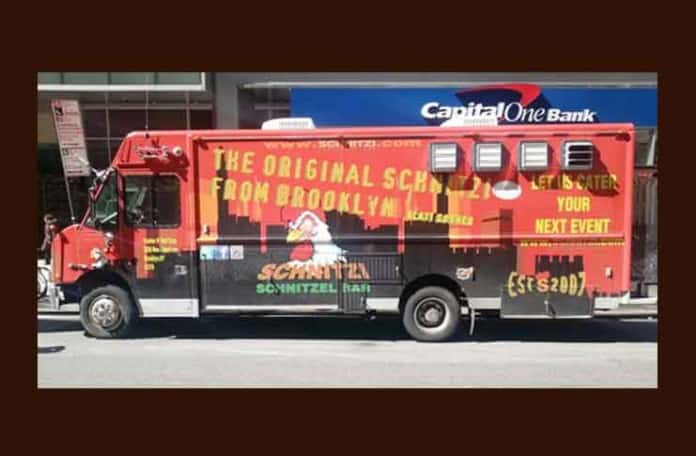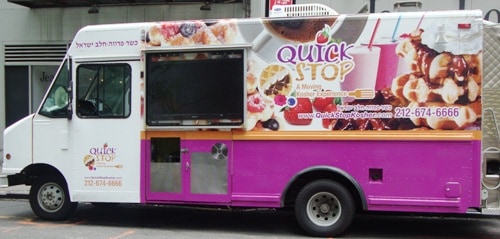 Wow, it's a scorcher today, but you find some great New York Street Food from the vendors on the right and the trucks below, and bring it back to your air-conditioned office.  If you don't have an office, there are plenty of air-conditioned atria in midtown and downtown with public seating areas.
The police and some buildings have still been making a lot of trucks move, so check the Mobile Munchies twitter feed before heading out, in case anyone had to move at the last minute.
CoolhausNY T1 heading to @highlinenyc til 10pm today (be there around noon…quickly repairing a flat tire!), & catch T2 at #ColumbusCircle 12-4:30p!
schnitznthings Hey guys,looks like we found a spot on Water and Old Slip. C u soon FIDI:) Store will be open from 11:30-9:00. Tis really hot out. stay cool
bongobros Sorry for delayed tweets, we've been crasssy busy! Please come by 20th and 5th Ave and try out our Cubano Sandwich or one of our platters!!
CupcakeStop Good Morning Cupcakestoppers Truck 1 is parked on Varick street betweeen King street and Charlton Street…come by and say hello…Todays Flavors are Red Velvet,Funfetti,Oreo,Key Lime,Vanilla Chocolate,Fluffernutter and Smores…mmmmmmm
New Jersey
TwoPitasInAPod The Podsters are en route to Newark on Mulberry serving lunch from 12-2. Dinner in JC at the Grove Square farmer's market!
qbacubankitchen headed to JC ! eta 11:45!
TheKrave Closed for lunch today