New York is one of the world's most glamorous cities. Anyone on the planet dreams of visiting the big apple at least once in his life. It's also one of these cities that are culturally advanced due to the diversified intersection of people from varied cultural backgrounds. New York is also a hub for celebrities from all around the world.
It's not only a glorious city with magnificent skyscrapers but also a city with glorious history and a powerful presence of food. Want to know more about the most popular foods in New York City? According to recent surveys, the following are five of the most popular foods in New York City:
5 of The Most Popular Foods in New York City:
1. Pizza
Pizza is with no doubt among the most popular foods in NYC. Be it a random lunch outdoors, a quick visit to a food truck, lazy dinner nights, office gatherings, and more. Pizza makes it to the list of top foods to be ordered. 
New York has more than 1500 pizza joints registered, and most of them have super fast delivery. New Yorkers order 350 pizzas each second making it the most loved and highly consumed food. 
2. Bagel and Lox
One of the most popular foods in New York is Bagel and Lox. This fabulous delight dates back to the 1940s when big Jewish communities from Europe immigrated to New York and became refugees in the US. 
Bagel and Lox was always a common food among the Jewish communities in Europe and it was well accepted in America. It passed on to American culture as one of the most beloved foods in the Big Apple. One can find a bagel corner on almost every street in New York. But if you wish to taste the best bagels in town, you should visit places like Brooklyn Bagel & Coffee Co. on 286 8th Ave, Sadelle's on 463 W Broadway or Tompkins Square Bagels on 165 Ave.
3. Hot Dogs
Hog Dogs are one of the most beloved foods among Americans, and New Yorkers in particular. Hot Dogs are actually consumed as a quick snack or appetizer. They are also one of the oldest foods in New York, brought by German immigrants after World War I. 
Hot dogs can be found on almost every street in NYC. However, there are plenty of dedicated food joints and restaurants that are experts in serving the best hot dogs you can imagine, like Nathan's Famous, Katz's Delicatessen, Crif Dogs, and more.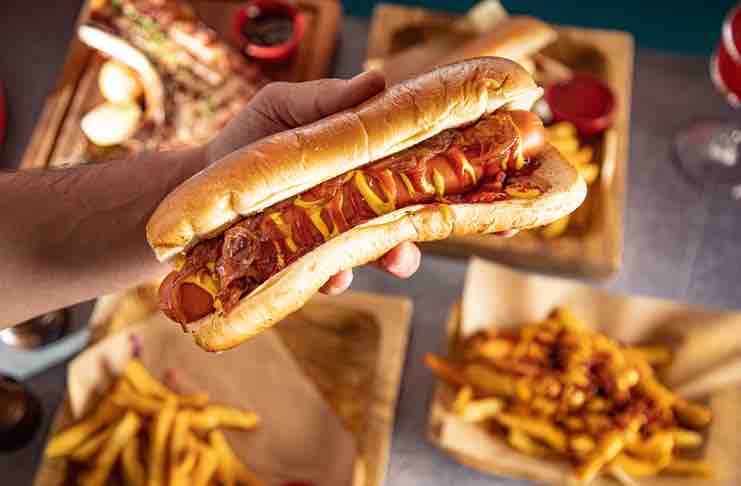 4. Coffee
A regular New Yorker cannot start his or her day without a cup of coffee with their breakfast. Coffee is one of the favorite beverages for New Yorkers, and there are plenty of coffee shops all over town. The journey of coffee and the growth of the brewing industry is told wonderfully on eraofwe.com. 
Coffee has always been a favorite morning drink and will remain a favorite. Not only in New York but people from all around the world have accepted coffee to be one of their favorite drinks for breakfast (and lunch!).
5. Reuben Sandwich
You may have not heard of this dish, but it's one of the most mouth-watering foods in New York. The Reuben sandwich is made with Irish corn beef topped with delicious swiss cheese, Russian salad, and German sauerkraut. 
It is bounded by two loaves of toasted Irish bread that brought the Irish taste into the streets of New York. If a New Yorker is really hungry, a Reuben sandwich is exactly what they'd be looking for.
Feel like having one of the above? Share with us how it was!
Want to read more of our latest posts? Check out our post about the best food trucks in NYC for 2021.
Fallon Chan is a food and lifestyle photographer and blogger.