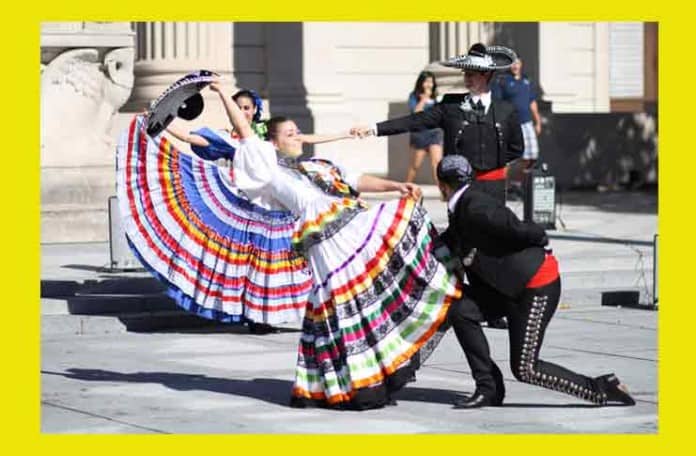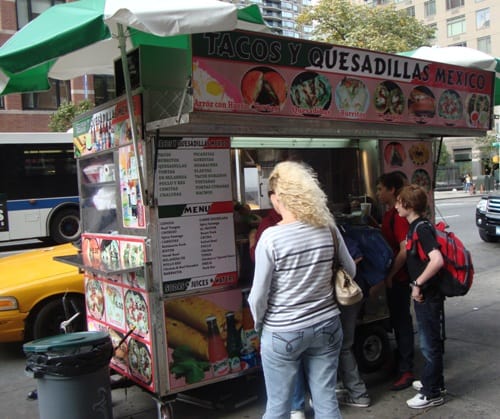 There isn't much in the way of good street food near Columbus Circle, so I was eager to try the Tacos y Quesadillas Mexico cart on 9th Ave between 58th & 59th St.  Jim T, a NYSF reader emailed me when I was away and said he read about this (fairly) new cart on Midtown Lunch, which was not far from my office.  Good thing, because I didn't have a lot of time for lunch.
Today's Lunch is 3 tacos ($2.50 each) from the Tacos y Quesadillas Mexico cart – chorizo, al pastor and pollo.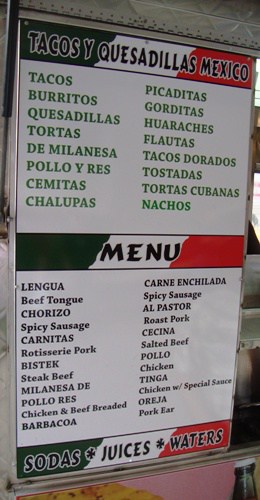 As with many of the Mexican carts and trucks like El Rey del Sabor, Tri Mexican Tacos and Paty's, the selection is pretty large – so I often start with tacos to see how they do on the basics.  It's the equivalent of trying chicken over rice from a new halal cart.
I ordered 3 tacos – chorizo, al pastor and chicken tinga, which according to the menu had a special sauce.  Unfortunately, she said they didn't have chicken tinga today, so I asked for barbacoa.  No luck there either, so I went for straight chicken.  I asked for everything spicy, and she asked if I wanted lime and radishes, which was a definite yes.  I asked how long the cart had been here, and she said 3 months.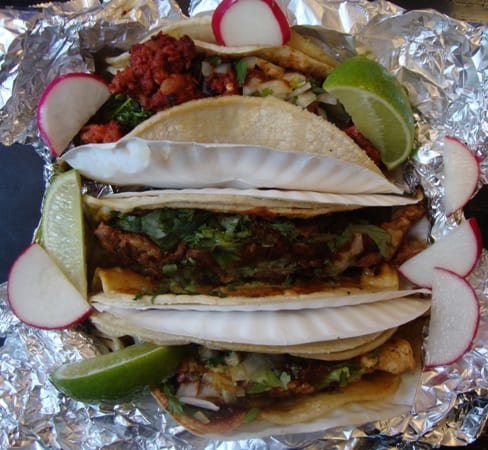 When I got back to the office, there were 3 tacos, each with double tortillas, chopped cilantro, onions, salsa verde and lots of meat.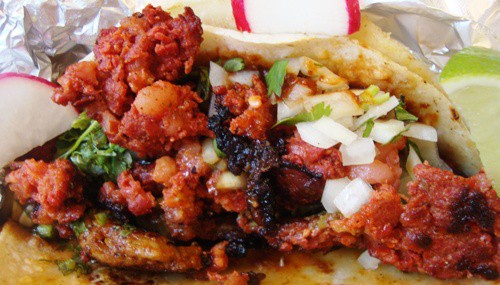 First up was the chorizo taco.  There was a lot of sausage meat that had been taken out of its casing and grilled, and some of the chorizo was nicely charred, but there was also some fat and other filler that you often get in sausage.  Between the chorizo and salsa verde, it was pretty spicy, which I like.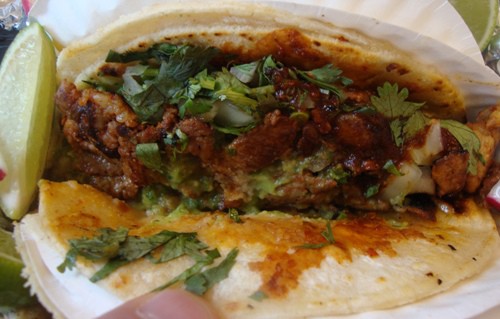 Next up was the taco al pastor – roast pork with some pineapple.  The toppings were the same, and there was a large amount of meat in this taco too.  The taste of the pineapple came through well – not too much to overpower the taco, but enough to give it a somewhat fruity taste.  The spiciness of the meat and salsa verde were a nice offset to the pineapple.  This was my favorite of the three tacos – probably because I really like pineapple.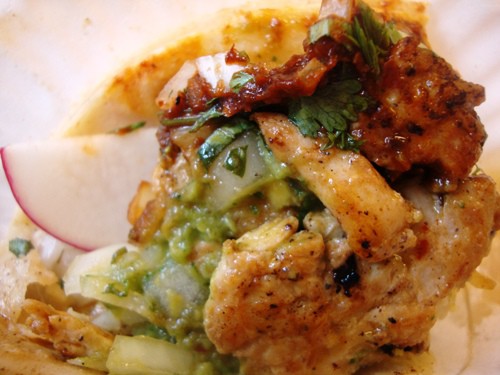 The third taco was regular chicken, not the chicken tinga I originally wanted.  But there were large chunks of grilled chicken, which I prefer to shredded or chopped chicken.  Some of the chicken was nicely charred too, giving it a charcoal-y flavor.  The straight chicken taco was the cleanest tasting of the three tacos, and quite enjoyable.
Today's Lunch was a 7.5 out of 10.  The tacos each had a lot of grilled meat.  The cilantro, onions and salsa verde were fresh, and the $2.50 per taco was reasonable.  Two tacos would probably be enough for many people for lunch, since they were pretty stuffed.  I also liked that two tortillas were used on each taco.  It would have been a mess if only one tortilla was used per taco.
Thanks to NYSF reader Jim T. for letting me know about this relatively new Mexican cart that's an easy walk from my office.  Next time I'll have to try the other dish in the cart's name – quesadillas.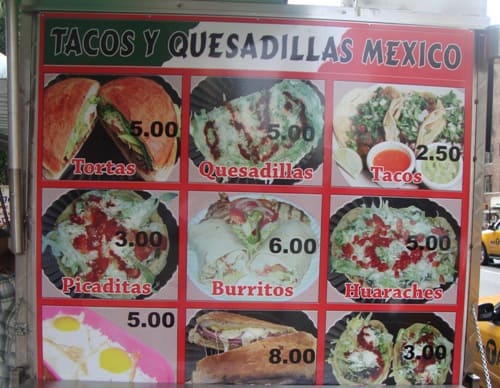 Someone in my office brought in "bloody severed finger" cookies for Halloween, so I had dessert today too.  Check this baby out. Yum!