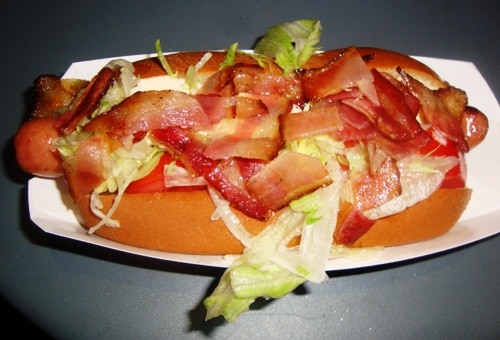 The Bark Hot Dogs food cart isn't exactly on the street, it's more like 30 feet above it.
Bark Hot Dogs started with a small storefront in Park Slope, then added another outlet at Pier 6 in Brooklyn Bridge Park. This season they opened a stand at High Line Park. That's where I went a couple of times recently to sample some dogs.
Nothing too fancy here, just solid, locally sourced, high quality hot dogs and burgers, with a nice fixings bar.
Probably the fanciest dog we got was the BLT Dog for $6, which isn't on the regular menu, but was a daily special.
We also tried a classic hot dog for $4, and our friend, who is vegetarian, got a veggie dog for $5.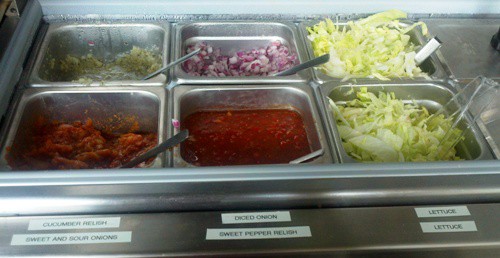 Let's start with the fixings bar. There was cucumber relish, cooked sweet & sour onions, raw diced red onions, sweet pepper relish, sauerkraut and lettuce. There was also ketchup, mayo and 2 types of mustard available. Talk about doing it up right.
On my first visit to Bark Hot Dogs, I was seduced by the daily special, the BLT Dog. That had so much stuff on it, I didn't really need anything else, but I made sure to check out the fixings bar with the classic dog on my 2nd visit.
The BLT Dog started with a classic dog, which is a pork & beef mix. It had bacon, lettuce, tomato, mayo and a sweet pickle in a top sliced bun. They had a few problems with the grill, and I had a long wait for the order, so the guy gave me extra bacon to compensate for the delay. Every BLT Dog doesn't have that much bacon…but I thoroughly enjoyed it. Delicious.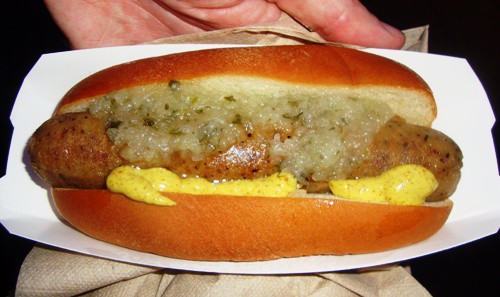 I didn't try the Veggie Dog, but my friend said it was one of the best veggie dogs that he's had. It looked like there were a lot of herbs and spices in there. He put mustard and cucumber relish on the dog, and told me it was really good.
I stopped one more time to try the classic dog and fixings bar. I topped it with cucumber relish, spicy brown mustard and sweet pepper relish. Very tasty, and the hot dog and bun both stood up to all the toppings, no problem.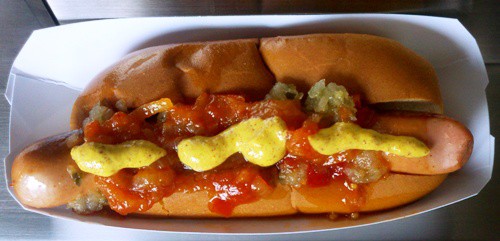 The Bark Hot Dogs stand is on the High Line at 15th St, along with a few other top notch food, dessert and coffee stands. Guess next time I should try one of the burgers, which looked excellent too, althouhg I'm more of a hot dog than a burger guy.
You can see the High Line menu here. If you're in Brooklyn, you can find the locations at the Bark Hot Dogs website here.