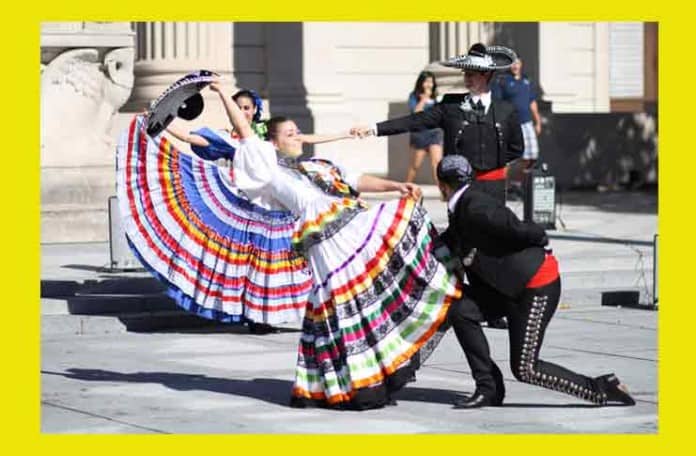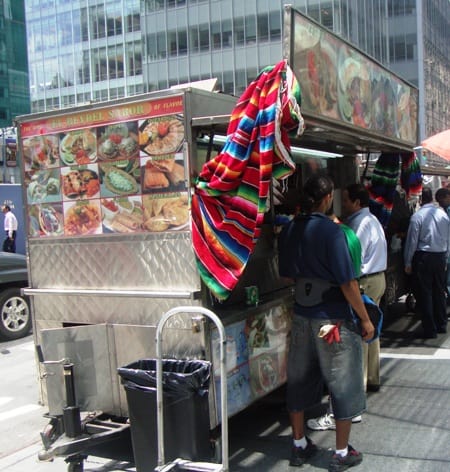 I was in the mood for a sandwich for lunch, but not a lot of street vendors serve sandwiches.  A good alternative is a torta or cemita from one of the better Mexican carts – and El Rey Del Sabor is one of the best.
They were 2010 Vendy Award Finalists, and have 3 carts – one at 49th & Park, one at 60th & 3rd, and the one most convenient to me, which is the north side of 43rd St, just east of 6th Ave.
They have chicken, beef, pork, tongue, and a few otehr meats, but the one I wanted was spicy pork.  Today's Lunch is a spicy pork torta from El Rey Del Sabor ($6.50)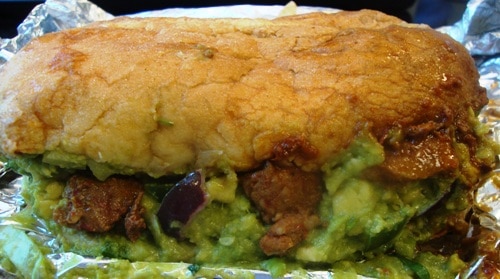 El Rey Del Sabor serves their tortas on a Portuguese-type roll, which is a little larger than the usual round kaiser roll.  Inside were chunks of spicy pork, lettuce, tomato, guacamole and jalapenos.
By the time I got back to the office, the top of the roll was a little mushy, but the bottom of the roll held up fine.  The first bite had a great taste of spicy pork and guacamole – and there was a lot of spicy pork in this sandwich.  It didn't start out that spicy, but it got pretty spicy as the meal progressed.
The guacamole was creamy and tempered the spiciness a bit – but there were also jalapenos, which sent the heat level back up.  Lettuce added some nice crunchy texture and a little more coolness.
The spicy pork was tender and tasty, but the guacamole made the torta somewhat messy.  My mouth was tingling for quite some time after eating, which I like, and for $6.50, this was a big torta and a pretty good deal. Just make sure you have enough napkins.