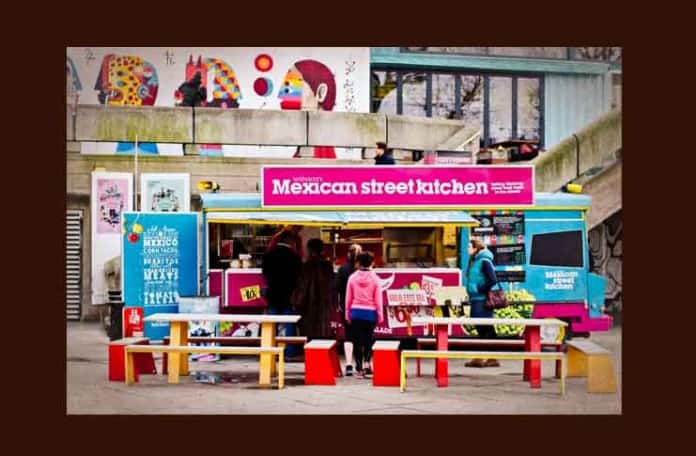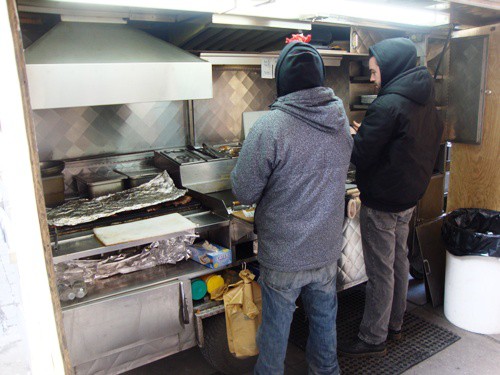 The recent NYSF Guest Post from Charlotte of Simonseeks.com entitled "An English Girl's Take On The Best NYC Mobile Eats" reminded us of just how exceptional the food at Calexico Carne Asada is.  And the daily special of ground lamb, cilantro, onions and their "crack" chipotle salsa was the perfect excuse to go there again – so despite the crappy weather, I headed down to Soho for their cart on Wooster St, just north of Prince St.
I've had Calexico's namesake carne asada, chicken and pork, but lamb was a new one.  The options were a quesadilla for $6, tacos for $3 each, or my choice for Today's Lunch, a burrito for $8.  Click through to find out how the 2008 Vendy Award Winner did with lamb, which can be a fatty and difficult meat to tame.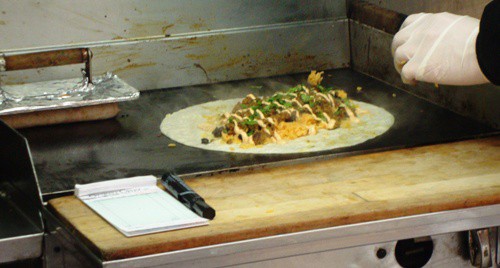 The sign on the cart said ground lamb, but the lamb wasn't really ground, it was cut into small, bite-sized chunks.  The lamb was cooked with raisins and almonds, and the burrito was topped with Calexico's "crack" chipotle salsa, onions and fresh cilantro.  In addition, the burrito was filled with rice, beans, cheese, pico de gallo and guacamole.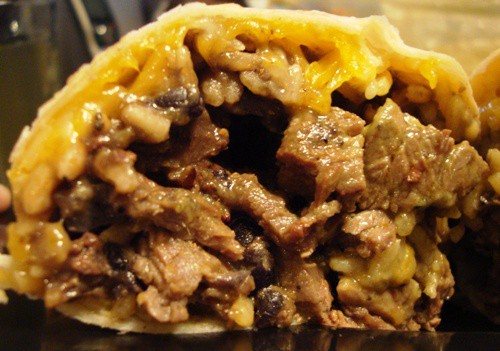 When I opened up the wrapper and cut the burrito in two, several pieces of lamb fell out onto my plate.  I popped a piece into my mouth, and it was suddenly very happy.  The lamb was soft and tender, and it was seasoned with black pepper and a few other spices I couldn't exactly distinguish – but it was really good.
Digging into the burrito, the bites of lamb combined nicely with the rice, beans and other ingredients described above.  Lamb has a bit more flavor than beef, and this was excellent lamb – not fatty or gristly as all, and perfectly cooked.
The raisins and almonds added another dimension to this burrito, in addition to the usual rice, beans, cheese and guacamole.
Today's Lunch was one of the best burritos I've had in quite some time.  Not only were all the ingredients top-notch and perfectly cooked, but the burrito was fairly large, too.  Lamb, raisins and almonds in a burrito was an inspired combination, and Calexico Carne Asada pulled it off very well.  Guess that's how, after winning the top 2008 Vendy Award, they now have 2 carts in Soho and 2 restaurants in Brooklyn.