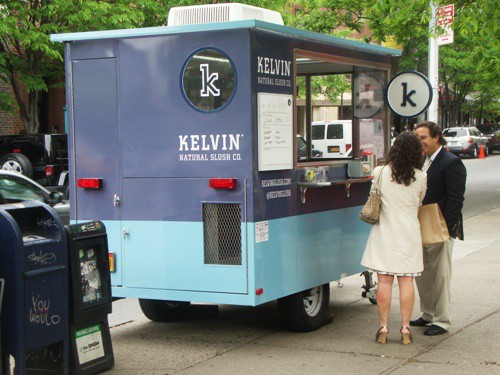 See below for UPDATE.
We don't usually post on weekends, but this is special!
Last year at Taste of the Parks, our friends at Kelvin Slush told us about a new cart they won a bid for with the NYC Parks Dept.  We were even more excited than usual because the park they were coming to was in our neighborhood!
Today we were out running errands and ran across the new Kelvin Slush cart in the Little Red Park on the corner of Bleecker St & 6th Ave!  It has all the same great menu items that helped them win the 2010 Vendy Award for Best Dessert.
Now you know where to get a Kelvin Slush without having to worry about where the truck is.  Once the new cart is up and running, they expect it to be open from 12-9pm seven days a week.  Lots of train come into the West 4th St Station, and Kelvin is only a couple of blocks away.
For our inaugural slush from Kelvin's Ice Cube, we had our new friend Josh make a ginger base with raspberry mixed in. What an amazing combination!
UPDATE 5/6/12 – The Ice Cube will not be out for a few days so they can tweak some things on the cart.  We will let you know when it returns.