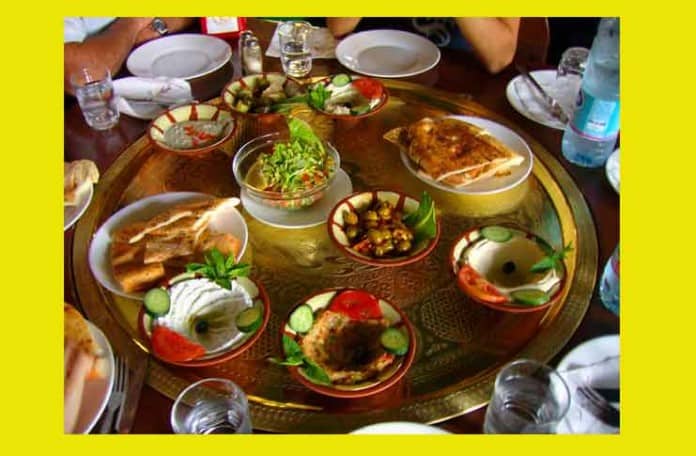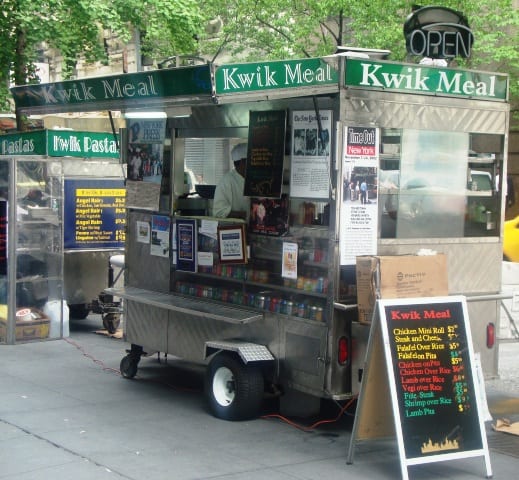 It's been a while since I've been to the Kwik Meal cart on the SW corner of 45th St & 6th Ave.  Kwik Meal won the People's Choice Award at the 2007 Vendy Awards, and is one of the better street carts around.  The owner, Muhammad Rahman, was a sous chef at the Four Seasons, and knows his stuff.
Kwik Meal is also one of the only carts that serves real lamb.  Almost every street cart that serves "lamb" is using the processed gyro meat that comes on a spit and they slice off in thin strips.  Kwik Meal serves pieces of real lamb, which obviously costs more, but is worth it in our opinion.
Today's Lunch is lamb over rice ($9) from Kwik Meal.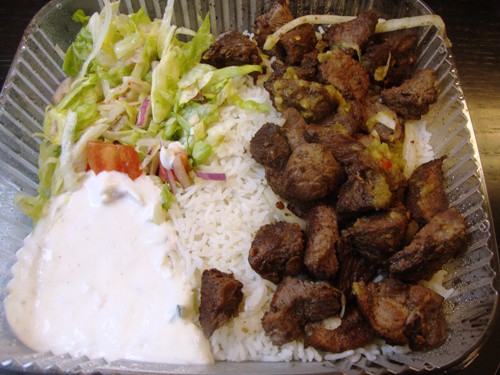 The star of the show here is a plentiful portion of grilled , seasoned lamb.  It is grilled just right, and is tender and tasty.  A green chili salsa is served over some of the meat, which provides some spiciness.
The lamb is served over a light and delicate basmati rice.
One the side is a white sauce that was decent, but I preferred to eat the lamb by itself or with a little rice.
There is also a small salad on the side that has lettuce, tomato and red onions.  It has an Italian-style oil and vinegar dressing on it.
Today's Lunch of lamb over rice from Kwik Meal was one of the higher-quality lunches available from a street vendor in midtown.  There was a steady line of 4-6 people, and plenty of people ordered chicken over rice and lamb or chicken on pita bread, which is a few dollars less.  Whatever you get from Kwik Meal, it will be good – but the lamb is much better than the lamb served by most street vendors.