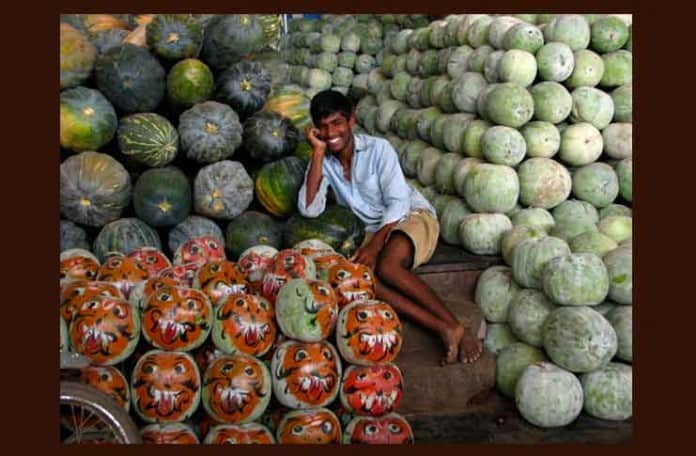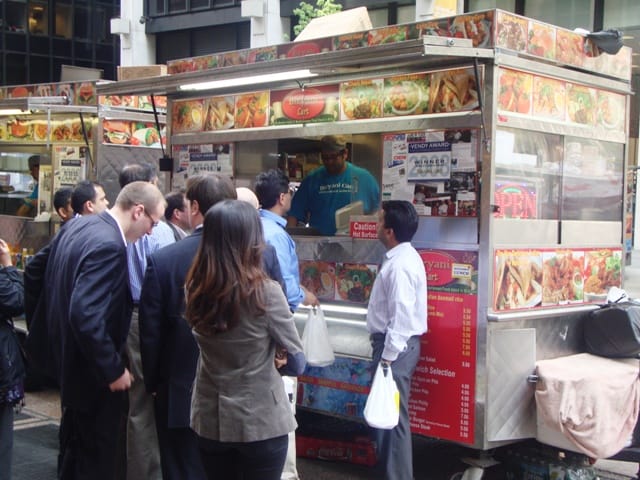 Regular readers of NYSF (and many other people too) know that one of the best lunch deals in midtown is 2 kati rolls for $6 from Biryani Cart on 46th St just west of 6th Ave.
They have 6 different kati rolls to choose from – 4 chicken and 2 vegetarian options – with varying degrees of heat, from mild to spicy habanero (which will set your tongue on fire).
My favorite kati roll is the Chennai roll, which has chicken in a sweet and spicy chili sauce, but I wanted to try some of the other choices.  Today's Lunch is a King Koti roll and a P.W.C.D. roll from Biryani Cart for $6.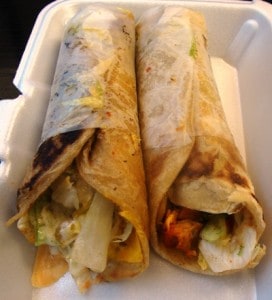 No matter which kati roll you select, it will come on chapati bread, which is thinner than naan and pita bread, but strong enough not to break with lots of food and sauce inside.  Most of the kati rolls have shredded lettuce inside too.
I started with the P.W.C.D. roll, which had a fried egg layered on the chapati bread with potatoes, scrambled eggs, onions and lettuce.  The roll had a spicy chili mayo sauce that really kicked things up, making it a pretty spicy lunch for vegetarians.  This was an excellent kati roll, even without meat.  Who says vegetarian food has to be bland?  This was bursting with flavor and a decent amount of heat.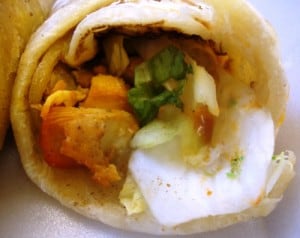 Next was the King Koti roll, which has tikka glazed chicken, onions, lettuce and a slightly spicy sauce.  The cubes of tikka glazed chicken were very tasty, and the sauce was a little spicy, but not as much as the P.W.C.D. roll.  This was a very enjoyable kati roll.
Today's Lunch was another excellent kati roll combo from Meru and the Biryani Cart crew.  With lunches like this (and many others), it's easy to see why there's always a line for lunch at Biryani Cart – and why they won the People's Choice Award at both the 2008 & 2009 Vendy Awards.
Another way to try a few different things at Biryani Cart is to try their combo platter.  Meru told me he now has a combo platter with biryani, a kati roll and a samosa.  I forgot to ask how much it was, but nothing at Biryani Cart is more than $8, and plenty of lunches are less.