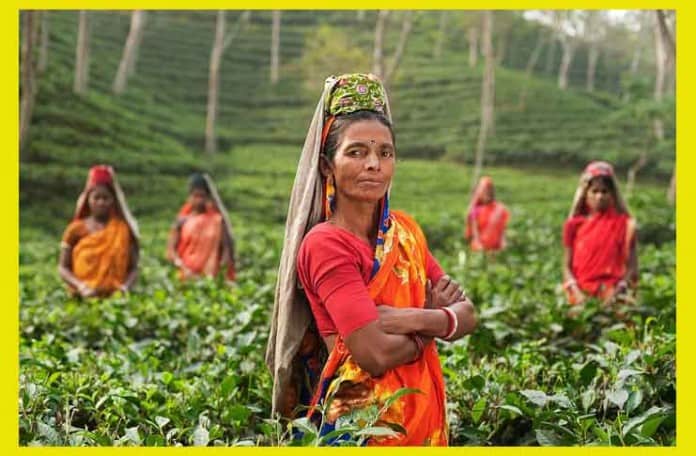 I haven't been to Biryani Cart since the summer and was in the mood for Indian food, so I headed to the SW corner of 6th Ave & 46th St.  I have been to Biryani Cart many times, but it's been a while, and today it was almost like going to a whole new place for lunch!
The Sandwich Land cart owned by Meru (Biryani Cart's owner) was not there any more, and in it's place right next to the original Biryani Cart was a cart called Juicy Wings.  They aren't serving wings until Jan 2nd (more on that below), so I moved over to the original Biryani Cart right next to it – and they had a bunch of new menu items too!
Meru has been a busy man.  I guess you don't win the People's Choice Vendy Award 2 years in a row (2008 & 2009) by staying static.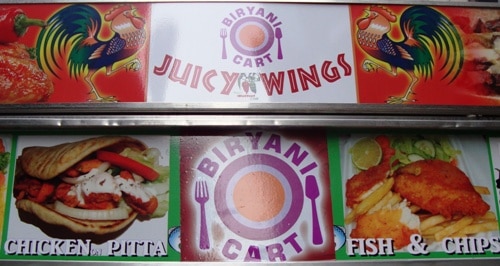 Today's Lunch is one of Biryani Cart's new menu items, Kashmiri Chicken Curry ($6).  Other new menu items were channa dal, goat biryani and fish curry.  Don't worry, they still have the same wonderful kati rolls and of course, biryani dishes.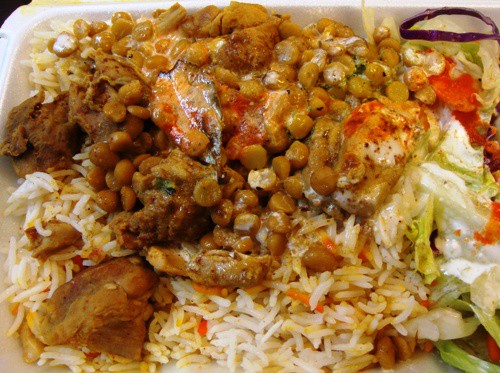 I've always liked Kashmiri food – and not just because it's one of my favorite Zeppelin songs.  I always liked creamy Indian sauces such as korma, and chicken Kashmiri is similar, although not nearly as creamy.  The sauce wasn't spicy, but as lunch progressed, the heat quotient built up from the hot sauce on top.  If you don't like spicy food, this lunch without hot sauce is a good option.
The chicken is a combination of white and dark meat, but it's so soft, tender and nicely spiced, and it falls apart in your mouth.  I'm not sure if it was the chicken, Kashmiri sauce or rice (probably all of the above), but there were lots of spices in this lunch – certainly clove, cinnamon, cardamom, bay leaves, pepper and who knows (besides Meru) what else.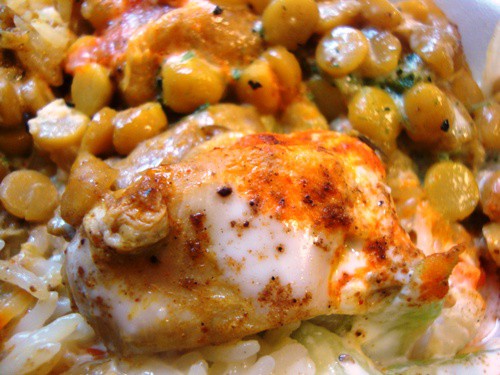 There were also lentils on top of the chicken, and they weren't soft and mushy either.  The lentils still had some body to them, but weren't hard.
As always, Biryani Cart's basmati rice is very good – thin grains of rice seasoned well and not overcooked – but when I got to the bottom of the platter, there was more oil than expected.  It wasn't enough oil to put me off, but I was somewhat surprised.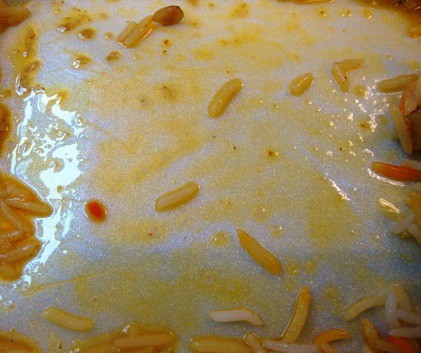 Today's Lunch gets an 8.5 out of 10.  There was plenty of really good chicken that had been stewed in a semi-creamy Indian sauce with flavorful rice.  I eagerly ate it all – and wanted more afterwards!
As I said, there were a couple of other new menu items at the original Biryani Cart, and I'll probably have the fish curry one day – but what looked really intriguing was the new Juicy Wings menu.
Triple X Fahrenheit, Texas Ranch, Sweet Wasabi Rooster and Sriracha Wings, all from $5-$6, with Basmati rice, salad and bread for $1 extra.  The other side of this sign (which you can't see) also lists Philly cheese steak, peppercorn cheese steak and deep fried shish kebab (spicy yakitori style) on a skewer or in a pita.  Wow!
I may not have been to Biryani Cart in a few months, but I'll certainly be there right after the New Year to check out Juicy Wings!