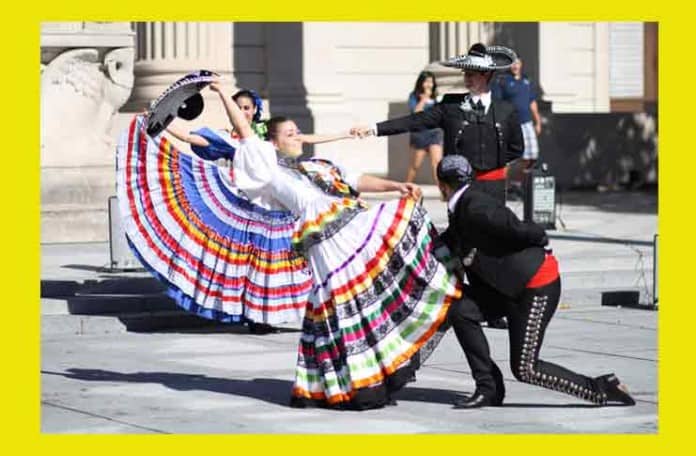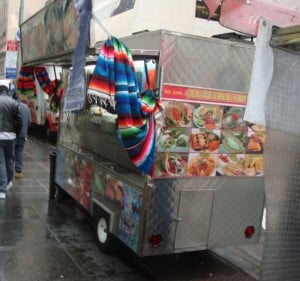 I've been wanting to get back to the El Rey Del Sabor cart ever since I tried one of their chorizo burritos earlier this year.  They have excellent freshly made Mexican food, and a wide variety of dishes to choose from.  I never know what to get because of all the choices: tacos, burritos, tortas, enchiladas, pastelillos, quesadillas and more.  They have 3 carts in midtown, 3rd Ave and 49th St, 3rd Ave and 60th St, and this one on the north side of 43rd St, just east of 6th Ave.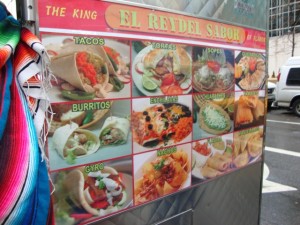 One way to try different things is to order enchiladas ($8), which come with 3 enchiladas, and you can get different fillings and sauces.  I told the woman in the cart that I wanted some variety, so she gave me one chicken, one beef and one spicy pork enchilada.  She also put red sauce over half and green sauce over the other half, then added crema and some crumbled manchego cheese on top.  There were also rice and beans topped with red onion slices on the side.  Wow, this looked and smelled great!
And it was as good as it looked.  The enchiladas were simply rolled up corn tortillas with chunks of meat inside, placed in the tray, and topped as described above.  I watched them make each enchilada from scratch right in front of me.  Fresh, hot and tasty.  The meat fillings were nice chunks of meat, not shredded, and the spicy pork had a nice hot rub on it.
The red and green sauces were both spicy.  It's hard to say which was spicier, but the green sauce was a little lighter and cleaner tasting.  That may be because I'm not big on tomato-based sauces.  They also have a mole sauce available, which she said was sweeter, but since I let the chef choose for me, the mole will have to wait until next time.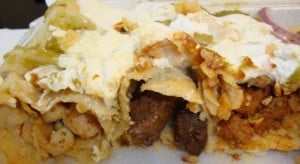 The rice and beans were nice, and clean tasting too.  The beans were not fried or refried.  They were just cooked, put over rice and topped with sliced red onions.  It was tasty, but I hope the tic tacs work as expected.
Today's Lunch was a strong 9 out of 10.  If there's a better Mexican cart in midtown, please let me know, because I haven't found it.
.