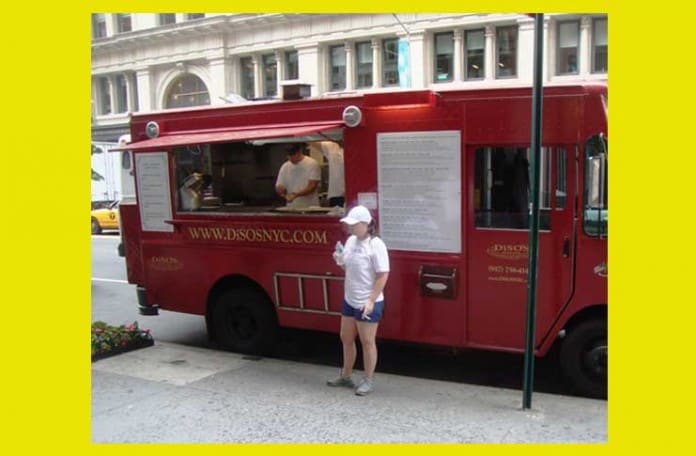 The big storm has passed, but a few of the trucks are out having maintenance done today.  Here's where they are today:
fritesnmeats – Howdy Amigos! Read all about it – Our Schedule, Burger of the Week & more http://fritesnmeats.blogspot.com (Mon-Broad & Water Street in Financial District)
VLAIC – Panda truck will be at 6th & 22nd 7am-10am, then to 5th & 23rd till 6pm..hot choc anyone?
VLAIC – Kangaroo Truck is at 5th & 15th. See what Jessa's brewing. Pastries straight out of the oven. Nom……NOm..nom
RickshawTruck – Were in dumbo at front and washington waiting for parking hopefully open by 11-3
waffletruck – Springbreak at Columbia, so we're boomeranging to 52nd btw 6 & 7 today. Free dinges for your favorite spring break destination.
CalexicoCart – Both carts are out and bringing the heat. Braised short ribs in a roasted jalapeño sauce is the special of the day
1 new tweet.
nyccravings – 48th and 6th: ready by 11:30!
CupcakeStop – Sorry CupcakeStoppers, we're making some exciting installations on the truck today and will be back tomorrow w/ our St. Patty's Day flavors!
StreetSweets – Sooooo sorry 2 disappoint! St. Sweets will not be out today, part weather, part truck maintenance, we will b back out tomorrow, see u then
PapaPerrone – We were ready for our first Monday back however we had a little set back we will be in on Tuesday and will be set up to start on Monday 3/22
New Jersey Food Trucks
TheTacoTruck – Lunch today in Hoboken @ Sinatra and 2nd from 11:30-2:30. Call ahead 201.577.4214
As always, check the pink Mobile Munchies twitter feed on our homepage for the most up-to-date information.