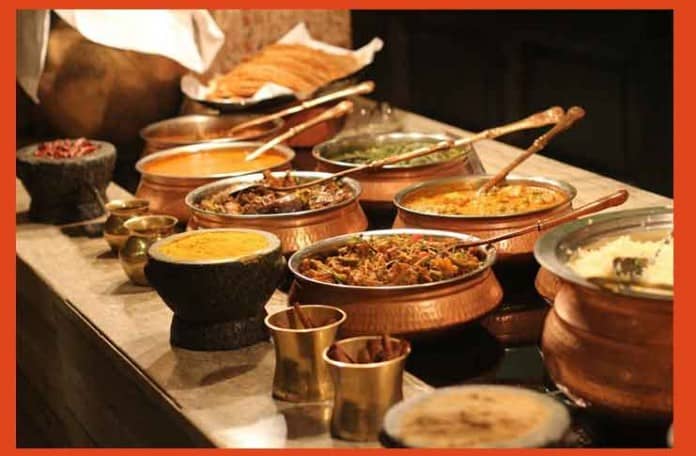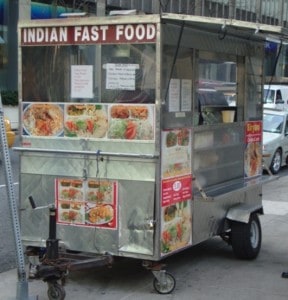 For Today's Lunch, I tried the Indian Fast Food cart on the south side of 53rd St between Park and Lexington Ave.  The cart was run by an Indian couple, and the woman told me they have been serving from this cart for 8 years.  They were obviously popular among the Indian workers in the area, as several groups came up to order lunch while I was deciding, but this cart was new to me.  This wasn't fast food in the McDonald's sense – it was good food served quickly.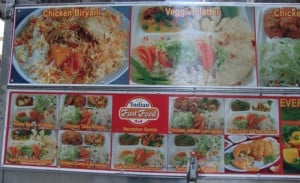 They had most of the dishes you would expect from an Indian vendor – chicken prepared as tikka masala, biryani, curry, korma or jalfreezi.  They also had lesser-known dishes such as dal makhani, kidney beans with cabbage, kari pakora with aloo gobi, and saag with chana masala.   As with most Indian places, there were several good choices for vegetarians.
Since it was my first time at this cart, I went for something easy, the chicken tikka masala over rice ($6), although everything looked really good.  This lunch also came with a side dish, a small salad, and half a pita bread.
When I got back to the office, boy did this smell great – Indian food is always so fragrant.  There was a lot of chicken, some over the rice and more in another section of the platter.  It was moist and tender.  The sauce was very nice, with a good amount of heat – not brutal, but certainly spicy. Over the rice, it was excellent, and I repeat, there was a lot of chicken.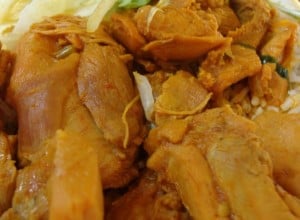 The side dish was spinach and some veggies, nearly pureed, and it was quite tasty, although it was spicier than the chicken.  The Indian rice was very good, thinner than Chinese rice. Salad was obviously an afterthought; it was just lettuce and some onions with a basic white sauce.  The bread wasn't anything special.  Indian cuisine is known for its breads, but you need a lot more equipment than was available in a cart, so if you're looking for fresh Indian bread, go to a restaurant.
However, if you want good Indian food for lunch at a very reasonable price, the Indian Fast Food cart is an nice choice.  Today's Lunch was a 9.25 out of 10 – the salad and bread were so-so, but the chicken, rice and side dish were all very good.