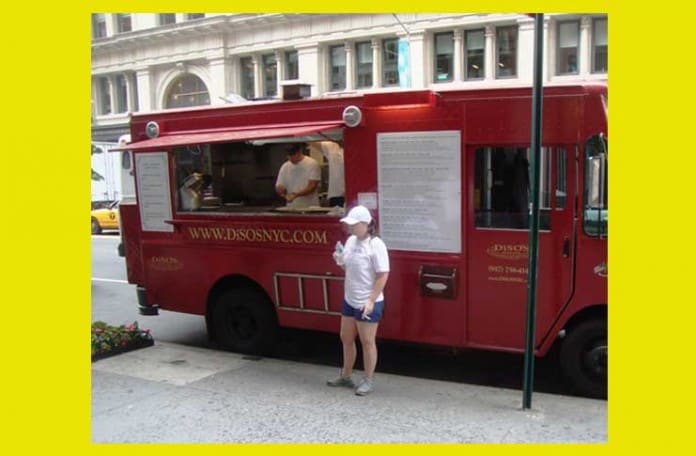 It's a beautiful day.  Did you know it's International Wafel Day.  You can get a free wafel and dinge (singular of dinges?) by following these simple rules (basically wear something yellow and don't try to game the system or otherwise be a jerk about it).
Here's where the food trucks are today.
schnitzeltruck – Dear 48th & 6th are you ready for some delicious schnitz. Well we're ready and stocked locked an ready to pull the trigger. B there @ 11:30. Remember please preorder only 3 order minimum. 347-772-7341. Thanks for understanding.
CalexicoCart – Both carts are back on the streets, sorry if we missed you yesterday. Today's special is beef short ribs in a tomatillo & chipotle sauce
RickshawTruck – Holy Smoke, this is DUMPLING weather! At Hudson bet King + Houston and we are also at Hanover Square in the FiDi today, 11-3. Love it!
fritesnmeats – Hey FiDi! Sun's shinin'! Must mean Burger Love is in the 'hood! We're on Broad & Water as usual. Taking preorders until 11. 917.292.9226 Financial District
CupcakeStop – Today we are on 5th Avenue and 23rd Street w/ Red Velvet, German Chocolate, Dulce de leche Cheesecake, Coconut Cream and Pumpkin Spice!!
waffletruck – Happy IWD! We're on 46 btwn 5 & 6 til 4:30 in the PM. If you show up wearing yellow, you get a free wafel + 1 topping. Holy Toledo!
StreetSweets – Today & tomorrow is Mini Maccarella Madness Day, buy one get one free! Today we will b on Hudson St. bet King & W.Houston, stop by & say hi.
steaktruck – get free waffle fries with any sandwishes purchase with password( myfree fries).
New Jersey Food Trucks
TheTacoTruck – Lunch in Jersey City today @ York St & Hudson St from 12:00-2:30. Call ahead 201.577.4214 http://fb.me/uwQuZD4t
laspicetruck – Hudson and york 11:30 today…. try the gourmet sliders. they are more than a mouthful.