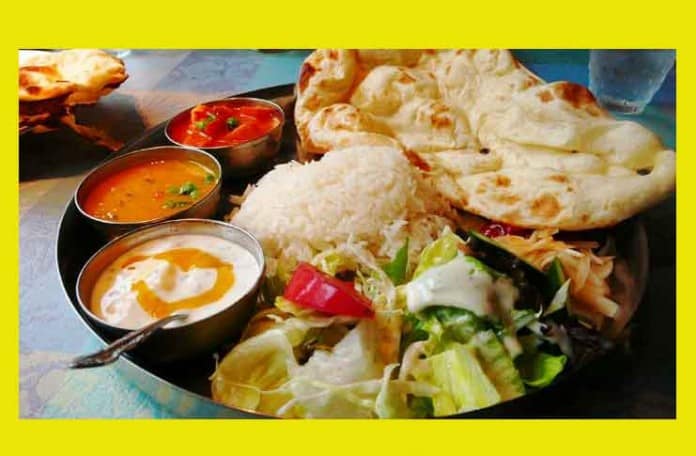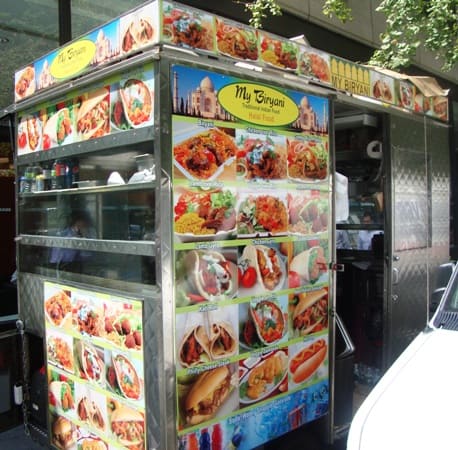 There's a new biryani cart in town, My Biryani, but they're taking on a legend.  The Biryani Cart on 46th St & 6th Ave has won the People's Choice Award at the past 2 Vendy Awards, and show no signs of slowing down.
My Biryani is only 2 blocks south of Biryani Cart, on the SW corner of 44th St & 6th Ave.  Today's Lunch is 2 chicken kati rolls ($6 or $3.50 each) from My Biryani.  How would the upstart newcomer measure up?  Find out after the jump.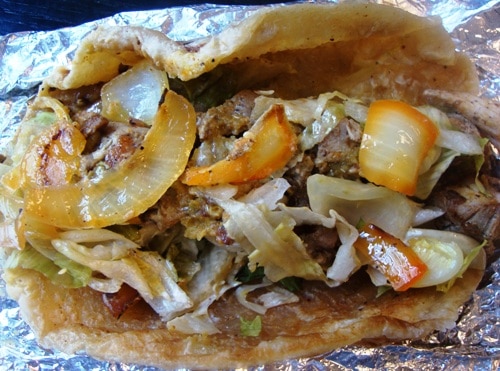 Today I'm willfully breaking one of my own rules.  Since the cart is called My Biryani, I should rightfully order biryani – but at the Biryani Cart, I prefer their kati rolls to their biryani, so that's what I'm getting today at My Biryani.
Upon ordering, the first big difference was immediately noticeable. They only had chicken kati rolls.  Biryani Cart has around 6 different kinds for whatever strikes your mood – spicy, mild, chicken, lamb, vegetarian, etc.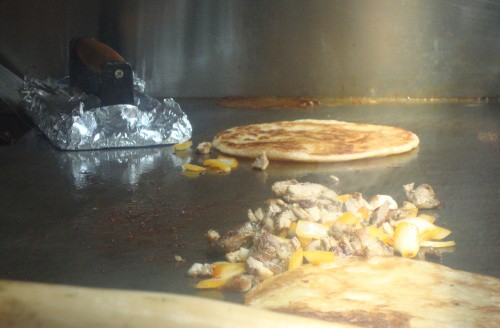 After grilling the paratha bread, chicken and onions, he assembled the kati roll and asked what I wanted on it.  I wanted lettuce but no tomato, and he suggested white sauce and hot sauce.  This is certainly different from other kati rolls too.  I'm used to white sauce and hot sauce on chicken over rice from halal vendors, but don't usually see it from Indian food vendors.
This is where you need to pay attention.  If you want hot sauce, please forgo the bottled sriracha red hot sauce with the rooster on the label they offer.  Instead, ask for their homemade green hot sauce (more about that later).
When I got back to the office and opened up lunch, it smelled great – and tasted even better.  The chicken, onions and bread all had that great grilled flavor.  There were additional spices and seasonings on the chicken, and the onions had an orange tinge around the edges from what they were marinated in (tandoori seasonings?) before being grilled.
And that homemade green hot sauce was wonderful.  It had depth and body to it.  It wasn't just heat – it added to the kati roll.  I asked what it was made with, and he said jalapenos.  This was much better than the bottled sriracha sauce that was first offered.  Glad I dug a little deeper.
I almost forgot the bread.  It was nicely browned on the grill, but was still soft and supple.  Paratha bread is thin, but it held all the fillings just fine due to its elasticity – but it wasn't chewy.  Weird, huh?
Today's Lunch gets an 8.5 out of 10.  The value is good at $6 for 2 kati rolls – and the taste is excellent too.  The only downside is the lack of choice.  I would have preferred to try 2 different kati rolls, but they only had chicken available.
Well, they are a new cart and have only been around for a couple of weeks.  Let's give them some time to get up to speed and hopefully expand their product line.  My Biryani is definitely a worthy addition to the NYSF Directory and map, but I don't think Meru has anything to worry about.
In the meantime, to paraphrase Ernie Anastos – "Keep grillin' that chicken".