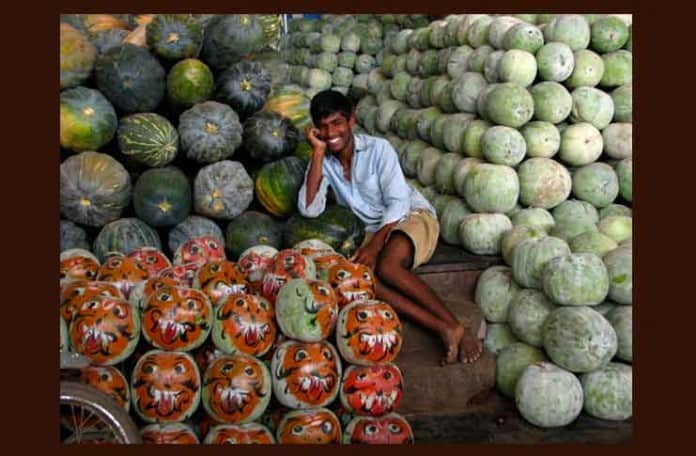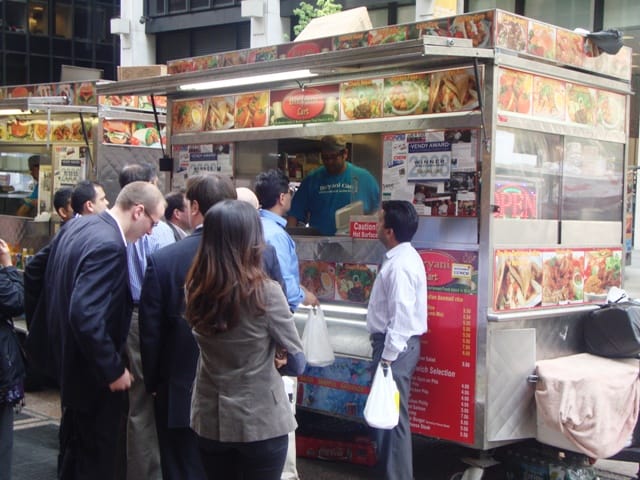 Lately I've been advocating the theory that when a food vendor puts a specific dish in their name, ordering that dish would usually be an excellent first choice.  This rule applies to restaurants as well as street vendors.  The latest vendor to test of this theory – Biryani Cart.
Biryani Cart has been on the SW corner of 46th St and 6th Ave for many years, and they were the People's Choice Award winner at both the 2009 and 2008 Vendy Awards.  Today's Lunch was their chicken biryani ($6).  Vegetable biryani is also available.
The first thing you notice when opening the lunch container is the aroma.  Wow!  Indian food is always so fragrant, and this was no exception.  The other really noticeable thing was the hard-boiled egg in the center of the biryani.
Once I started digging in, there was a lot of chicken mixed in with basmati rice, the hard-boiled egg in the middle that had the tandoori orange color on the outside, and some white and hot sauce on top.
There were a lot of flavors going on in this dish, including clove, which came to the front towards the end of lunch.  I'm not great at picking out individual flavors in a dish, but there was a lot going on here.  There was plenty of delicious basmati rice, chicken, and the piece-de-resistance, the hard-boiled egg (always a favorite).
There was a small salad on the side of mainly lettuce and a little arugula, with a decent white sauce on it as dressing.  Not amazing, but the point of this lunch is not the salad.
Today's Lunch gets a 9.5 out of 10.  I don't think you could get anything bad from Biryani Cart, but my personal preference (and many of the people ordering) seemed to be for the kati rolls.  Everything's at the quality level where it's more a matter of personal preference than which dish is better.  The biryani is more of a comfort food, whereas the kati rolls are a little more adventurous (and spicy).  Today I wanted comfort food.  Other days I want hot and spicy.