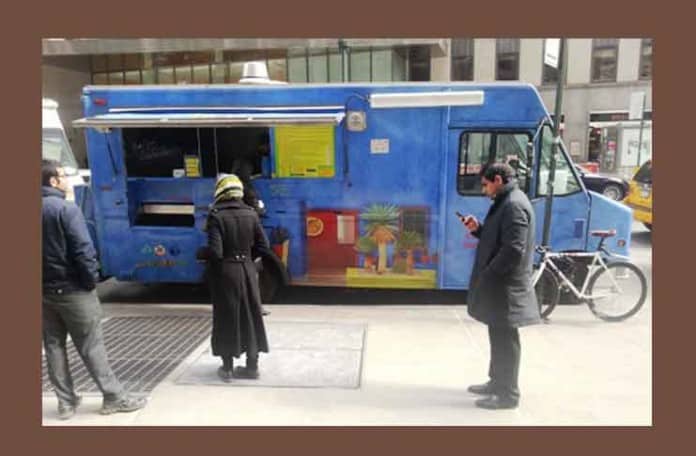 It's a comfortably cool day outside today.  Enjoy some street food from one of the food carts to the right or one of the food trucks below:

waffletruck – Moving to 52nd betw 3rd & Lex. Remember how Midtown East cursed when we left back in Dec? Well, we're back. Free dinges for ur Welcome Back greeting
RickshawTruck – Parked! We are in Midtown East: 52 + Lex as well as on Westside: 11th Av bet 46 + 47 @Ogilvy Did I mention we have Peking Duck?! 11a-3p
CalexicoCart – Both carts are On the street. The special today is fresh ground lamb seasoned with cumin & chilis, topped with pico & sour. Enjoy
nyccravings – Truck is still at the shop…hopefully we'll be back out tomorrow.
StreetSweets – Gd morning. St Sw will be on 50st btw 6th & 7th Av all day, with so many delicious offerings.
schnitzeltruck – Water & broad 2day. After u eat the schnitz u'll go back 2 the office and make extra bank!! Why?Cuz u got schnitzified. Boss man like! 11:30
New Jersey Food Trucks
TheTacoTruck – Lunch in Jersey City today @ York St & Hudson St from 11:30-2:30. Call ahead 201.577.4214.
laspicetruck – JC@ York & Hudson 11:30-2:00. gourmet sliders, asian tacos/ ginger slaw. praline milk chococlate in a cup.
As always, check the pink Mobile Munchies twitter feed on our homepage for the most up-to-date information.