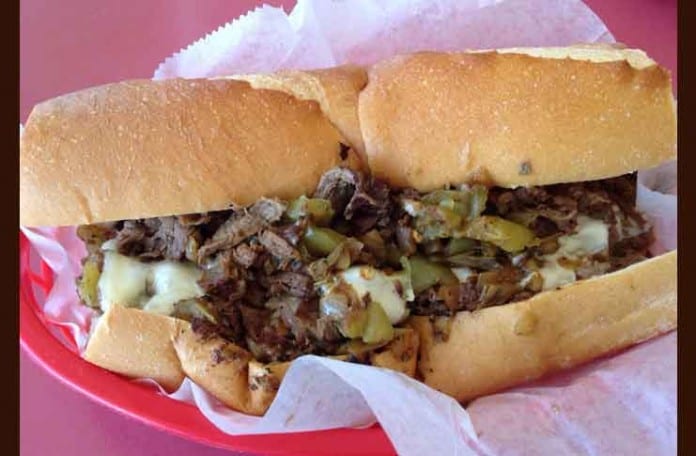 I didn't have much time for lunch, with a 2 o'clock call for which I had to prepare.  When lunch is time-sensitive, one of my go-to places is Carnegie John's cart on 56th St just east of 7th Ave (behind Carnegie Hall).  While there are usually a bunch of people ordering and waiting for lunch, it's the closest good street food cart near my office.
Today's Lunch is a cheese steak with bbq sauce ($6.25) from Carnegie John's cart.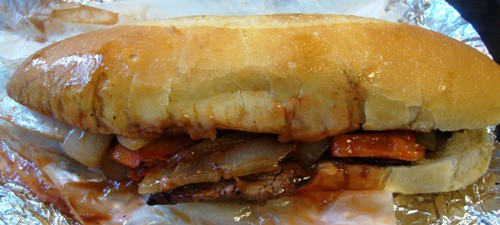 As I've said before, one of the things that sets Carnegie John's apart from most other carts is his charcoal grill.  He moves things between the charcoal grill and the griddle, which gives the meat a flame-broiled taste that carts with just a griddle cannot duplicate.  You can see a bag of charcoal next to the cart above, from which he constantly replenished the grill.  That's my steak flame-broiling in the picture below.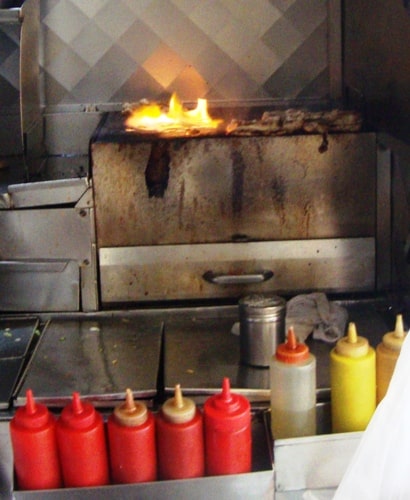 The other thing that makes Carnegie John's cheese steak so good is the steak itself.  He uses rib-eye steaks that are cooked right in front of your eyes.  These steaks are much better than the thin, chopped up meat used by lots of the other carts that make cheese steaks.  You could tell this was a decent cut of beef, and there was plenty of it.
Once the steak is cooked, he puts on 2 slices of American cheese, grilled onions and peppers, and your choice of sauce.  Today he used red peppers instead of green, which were sweeter.  I'm not sure what type of onions he used, but they were definitely sweet too.
The bun was nice and soft, and the bbq sauce was light and on the sweeter side.  Lunch got a little messy from the bbq sauce, but this was still a very enjoyable meal.
Today's Lunch was an old standby that still delivers.  Carnegie John's chicken over rice is one of the better ones around, and his cheese steak is excellent too.  You can't really go wrong with anything here, which is why there were half a dozen people waiting for lunch on a winter day, with more walking up behind me.