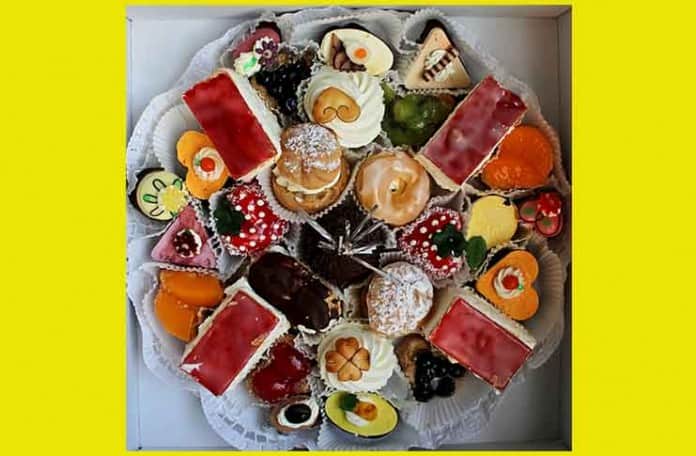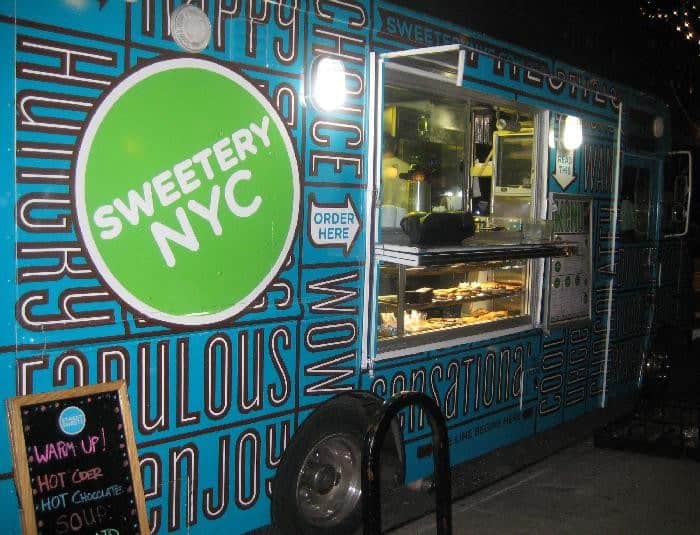 Sweetery NYC not only has a new name (nee Street Sweets), but they have a bunch of new goodies for sale on the truck – or shall we call it what it really is, a mobile bakery.
Grant and Samira sent some of their new items over to New York Street Food to try, and to summarize in a word – YUM!  They included both breakfast/coffee items (muffins, scones, an apple mini loaf) and desserts (a chocolate cream filled sweet bun, gingerbread and sugar cookies, and a red velvet whoopie pie).
As Warner Wolf famously said, "let's go to the videotape".
The first things we tried were the muffins and scones.
Pumpkin-based food items were never our favorite. They are usually quite heavy.  But the pumpkin muffin from Sweetery NYC was one of the most delicate pumpkin food items we've had.  The seeds on top added some crunch and texture to the pumpkin-flavored muffin, and the muffin itselfwas light and fluffy.
Next up was a carrot currant muffin, which was really tasty.  There weren't a lot currants, but there were enough to enjoy.  Tiny pieces of carrot were noticeable, and this muffin was even lighter than the pumpkin muffin.
While the muffins were both very good, our personal favorite was the cranberry scone.  We've always been partial to scones, and this one was excellent.  Some scones can be very dense, where you need to take a sip of coffee or tea between every bite or your mouth can't open to take another bite.  That was not even close to the case here.  The cranberry scone was light and moist, which made it easier to eat.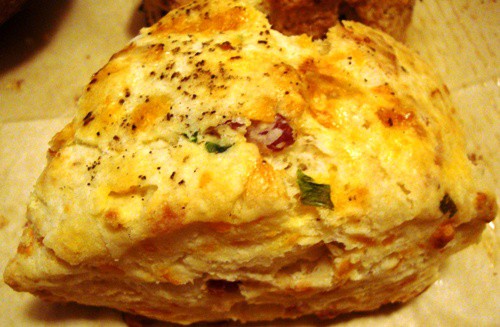 Sweetery did include one savory biscuit in the box.  It had some bits of  bacon, cheese, fresh chives and a few other herbs.  There was an eggy glaze on top, and everyone like this item a lot.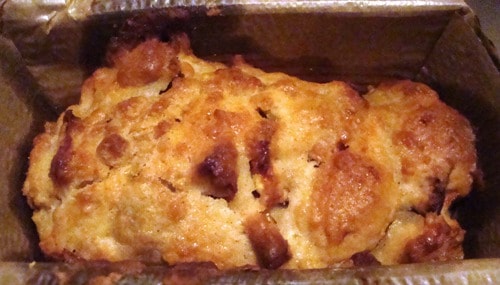 The next thing we tried was an apple mini-loaf.  This was a perfect transition from breakfast items to dessert, because it had characteristics of both.  It was like the bastard child of pound cake and apple strudel!
The mini-loaf was the shape of a pound cake, but inside was more like apple strudel – layers of light, moist dough with plenty of sliced apples.  The top of the loaf was baked to a golden brown, and with the apple filling, this was one of the tastiest treats in the bunch.  Personally, I'd like to see raisins in this too, but other people here disagreed and preferred just apple in the middle.  Guess it depends on how much you like raisins!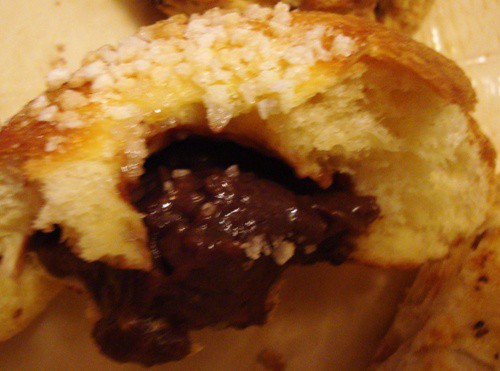 The next thing we tried was a sweet roll with chocolate filling in the middle.  Now were were firmly in dessert territory!  The roll was lightly glazed, with granules of baked sugar on top – and inside was a rich chocolate pudding.  We even detected some orange zest on top of the roll, which added another dimension to this wonderful sweet bun.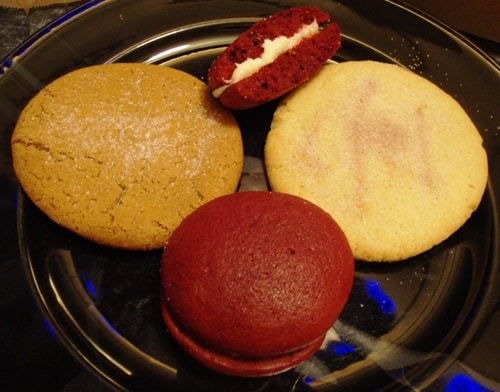 The last items we tasted were two large cookies and red velvet whoopie pies.  Whoopie!
The gingerbread cookie was big and soft, with some sugar sprinkled on top.  It had a distinct ginger taste, not just a hint of ginger.  The snickerdoodle cookie was also big and had sugar and cinnamon sprinkled on top, which gave it the streaks you see in the picture above.  It also had a nice cinnamon taste.  The cookies were soft and chewy and quite enjoyable.
The real star of the desserts though were the red velvet whoopie pies.  Soft, red velvet cakes with a sweet and slightly tangy cream cheese filling in the middle.  Outstanding!
I almost forgot to mention that Sweetery's baked goods are all natural and made without chemicals of any kind.  They use organic milk, raw sugar, and fair-trade coffee beans from a sustainable rain forest that are precision-roasted locally.
Thank you Grant and Samira for giving us a chance to try your new baked goods.  It made for an excellent day.  We look forward to seeing you on the truck and eating even more of your goodies, like filled croissants, macarellas, and we can't wait to try the new ice cream sandwiches coming out soon.
With all these delicious new goodies now being offered by Sweetery NYC, you should stop by and try them out for yourself.  Let us know which one is your favorite.
Website here
Twitter here
Facebook here