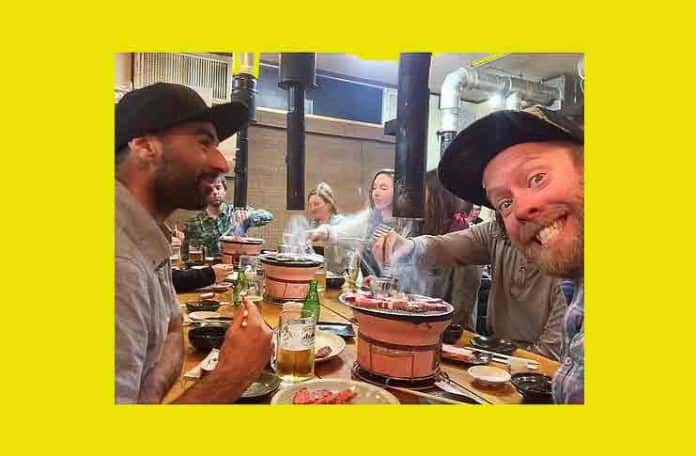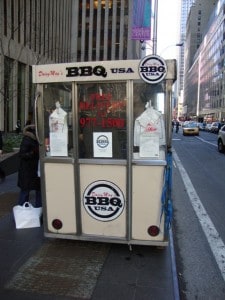 Today's Lunch is the bbq chicken sandwich with a side of rice and beans from Daisy May's BBQ cart on West 50th Street between 6th & 7th Ave.  I was going to get the pulled pork sandwich, but they were out of both that and the beef brisket by 1pm.  They only had the bbq chicken and chili left, so I went for the chicken.  While I wish they had either the bbq pork or beef, I'm glad to see they were busy on this cold, but sunny winter day.
One thing I like about Daisy May's is they package everything separately, so nothing is mushy when you get back to where you're eating.  The bread is fresh and the rice has not been drenched by bbq sauce.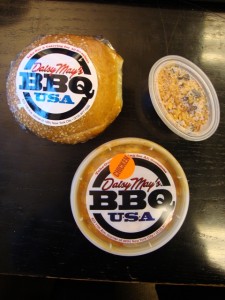 As you can see from the picture below, the chicken was much more than could fit on the roll, and it was a decent sized roll.  That's fine because I got to taste the chicken by itself this way.  The chicken was shredded into large pieces with about an equal share of white and dark meat, and a generous dose of bbq sauce.  The sauce was nice; not too sweet or vinegary.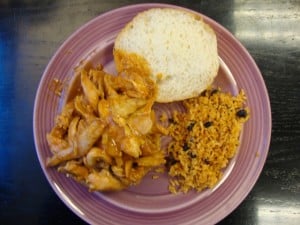 After eating some of the excess chicken, I closed up the roll and went to work.  The roll was soft with sesame seeds, and it went well with the bbq chicken.  Excellent bbq chicken sandwich.
The rice was a little dry and nothing special, but with so much chicken, I wouldn't even bother with a side dish next time, although I might try the cole slaw.  If you want, you can eat the sandwich and have the excess bbq chicken as a side dish.
All-in-all, Today's Lunch was very good.  The bbq chicken sandwich was $8 and the rice and beans side dish was $1.  Next time, I'm going to get there earlier for the pulled pork or beef brisket, but the chicken was very enjoyable.