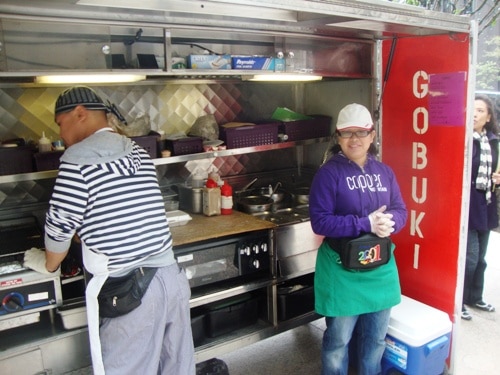 With a chill still in the air, we needed something to warm up our insides for lunch. What's better than an Udon noodles soup?
It's been a while since we've been to Gobuki. The last time we went there, udon noodle soup was not on the menu, and it's always fun to try new menu items.
The udon noodles soup at Gobuki, on 52nd Street just west of 6th Ave, cost $7.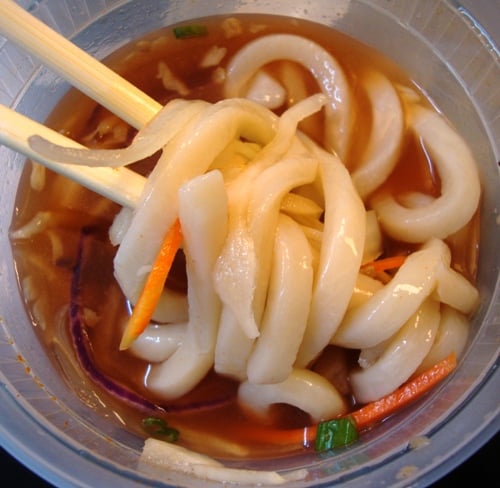 You can get the soup spicy or not spicy, which means we got it spicy. The udon noodles soup at Gobuki could be a vegetarian lunch if you eat fish cakes, because there is no other meat in it. There were plenty of other ingredients though.
In addition to a couple of large triangles of fish cakes, there was tofu. The tofu was springy, and looked like tiny pieces of toast. Cute.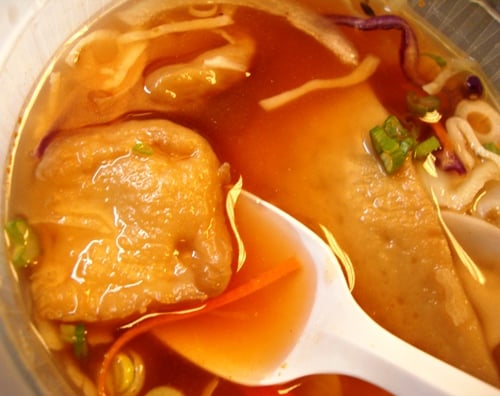 We expected onions, cabbage, carrots and scallions. What we didn't expect were two veggie dumplings tossed into the pot. That was a nice surprise.
The broth was nice and spicy (at our request), and did the trick up warming us up.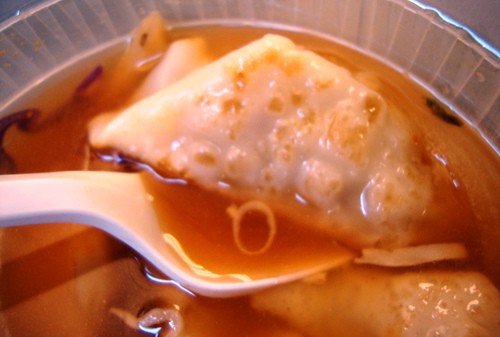 The noodles were better than we expected. They were packaged noodles, but the thick udon-style noodles held up well in the soup, and had a decent chew. Don't get us wrong – these were still packaged noodles, but they seemed to be better than packaged noodles we've had at other Korean noodle soup carts.
The udon noodles soup at Gobuki was a satisfying lunch at $7 for a cold, drizzly day. It came in a large, quart-sized container, so the portion was good too.
You can find Gobuki on 52nd St just west of 6th Ave. They don't seem to have twitter or facebook accounts or a website, but they are out in good weather and bad serving the office drones of New York, like us.
Note: Gobuki is not open most of this week, but should be out again on Monday (4/1).