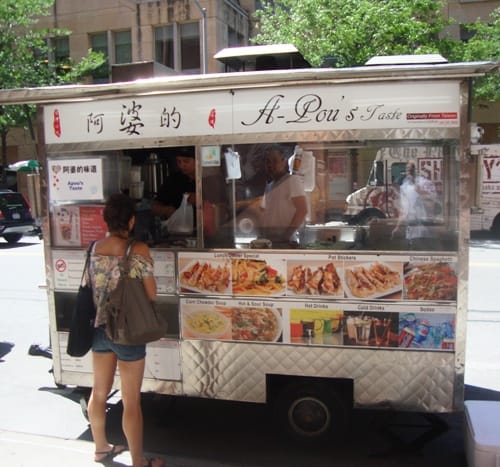 Ever tasted Taiwanese Potstickers? Well, we first ran across A-Pou's Taste in mid-2010, when they were nominated in the Rookie of the Year category at the Vendy Awards.  Their cart is usually in the East Village around St Marks Place, and they fell off our radar for a while, as they don't tweet or have a website.
Recently about 10 food trucks and carts were by NYU for an event, and A-Pou's Taste was one of them.
They have 4 different types of dumplings (pork, beef, chicken and veggie) and a few other dishes.  We got a medium-sized order of Taiwanese Potstickers, which is 10 for $6.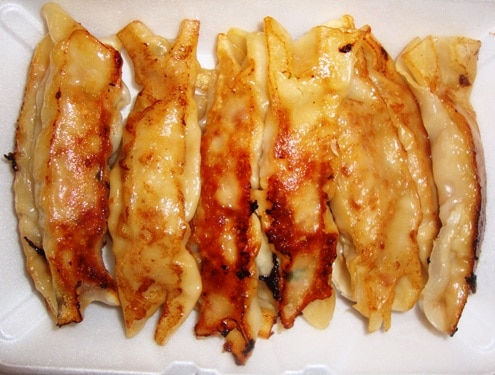 A-Pou's Taste is named after the grandmother of the owner, who I imagine was a great cook.
These Taiwanese Potstickers are not round or half-moon shaped, but are long and thin.  They appeared to be steamed in advance, then fried when you order.
The filling was ground pork, water chestnuts and chives, and a thin soy & sesame sauce was quirted on the pot stickers after they were put in the container.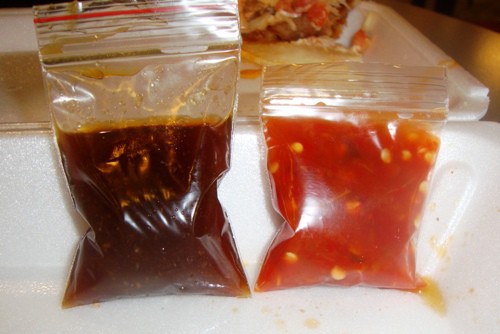 There were also 2 bags included with the order, hot sauce and more of the soy & sesame sauce.
The Taiwanese Potstickers had some crispiness on the skins where they were fried.  The meat filling had a nice taste, and a little crunch from the water chestnuts.
I can't say these were the best pot stickers I've ever had, but they were good.  And getting 10 for $6 is an excellent value.
In addition to Taiwanese Potstickers, they have lo mein, which is called Chinese spaghetti, and a couple of soups.  You can also see their full menu here.
A-Pou's Taste Twitter is here, but it doesn't seem to have been used in a couple of years.  Our understanding is the cart is usually by Astor Place & Lafayette St on weekends, but would like some confirmation if anyone knows for sure.
UPDATE – Chris tells us that during the work week, you can find A-Pou's in the plaza with several other food trucks in front of 140 Broadway (btw Liberty and Cedar) across the street from Zuccotti Park. Thanks Chris.